Bearish Sentiment Prevails as Traders Tread Cautiously and BTC Seeks Support: Futures Friday
Futures Friday is a weekly review of quarterly Bitcoin futures on OKEx.
Bitcoin (BTC) began a retracement late this week, dropping almost 10 percent from Monday's opening (UTC) of $9,773, as per OKEx Quarterly Future (BTCUSD0626) price.
BTC started losing bullish momentum as it struggled to break the resistance above $10,000 on Monday, and the pullback was triggered by a UTXO from Feb. 2009 (more than 11 years ago) being spent on-chain around 3 p.m UTC on Wednesday.
Looking at OKEx trading data, we can see that the BTC Long/Short Ratio hovered around 1.0 after Wednesday's pullback and the BTC Basis entered negative territory for some periods.
Since Open Interest (OI) has not seen improvements either for a while now, the overall market sentiment is leaning towards the bearish side.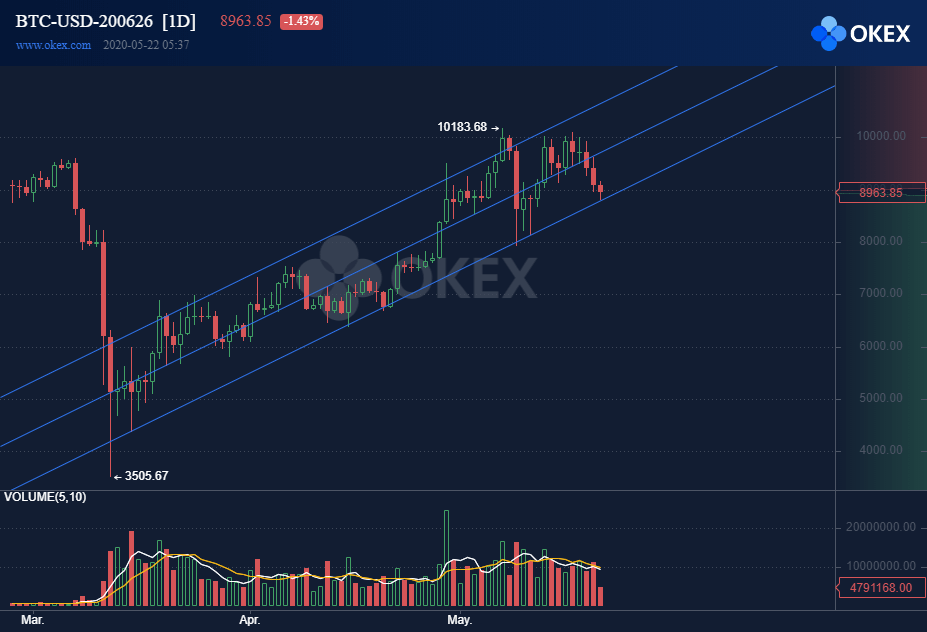 OKEx Trading Data Readings
Visit OKEx trading data page to explore more indicators.
BTC Long/Short Ratio
BTC Long/Short Ratio has fluctuated wildly over the past seven days. It first hit a high of 1.24 on Monday as BTC made a weekly peak of $10,110, and then began to pull back. The ratio had receded to around 1.2 on Wednesday before the sudden decline in BTC price. It is hovering around 1.0 currently, indicating that the market sentiment is balanced.

The Long/Short Ratio shows the ratio of the total number of users opening long positions versus opening short positions. The ratio is compiled from all futures and perpetual swaps. The long/short side of a user is determined by their net position in BTC.
In the derivatives market, whenever there's a long position opened, there must be a short position opened as well to balance it. The total number of long positions must be equal to the total number of short positions. When the ratio is low, it indicates that more people are holding shorts.
BTC Basis
The OKEx BTC Quarterly Future premium rose to around $30 on Monday and remained positive until Wednesday's plunge. But since then the premium has entered negative territory a few times and is still hovering around $0.
The BTC basis has quickly dropped from a high of $80 last week to the current $0.19, which reflects how the market sentiment has flipped.

This indicator shows the quarterly futures price, spot index price, and also the basis difference. The basis of a particular time equals the quarterly futures price minus the spot index price.
The price of futures reflects the traders' expectations of the price of bitcoin. When the basis is positive, it indicates that the market is bullish. When the basis is negative, it indicates that the market is bearish.
The basis of quarterly futures can better indicate the long-term market trend. When the basis is high (either positive or negative), it means there's more room for arbitrage.
Open Interest and Trading Volume
Open Interest (OI) had accumulated to 6.12 million contracts (1 contract = $100) by Monday, rising from Saturday's low of 5.08 million, before longs got liquidated. Since then, OI has not improved and is still running around 5.5 million contracts. This shows that both bulls and bears are cautious at current price levels, preventing a significant build-up of OI.
After the mid-March crash, large OI buildups are not commonly observed and market participants appear to have become cautious with the use of leverage. Overall, the leverage of Longs remains higher than Shorts, as evidenced by the size of liquidations.

Open interest is the total number of outstanding futures/swaps that have not been closed on a given day.
Trading volume is the total trading volume of futures and perpetual swaps over a specific period of time.
If there are 2,000 long contracts and 2,000 short contracts opened, the open interest will be 2,000. If the trading volume surges and the open interest decreases in a short period of time, it may indicate that a lot of positions are closed, or were forced to liquidate. If both the trading volume and open interest increase, it indicates that a lot of positions have opened.
BTC Margin Lending Ratio
The Margin Lending ratio moved in tandem with BTC this week, dropping after hitting its weekly high on Monday. The ratio currently stands at 2.13, which is higher than last Friday's 1.4 but is not accompanied by aggressive buying action in the leveraged spot market.

The Margin Lending Ratio is spot market trading data showing the ratio between users borrowing USDT versus borrowing BTC in USDT value over a given period of time.
This ratio also helps traders to look into market sentiment. Generally, traders borrowing USDT aim to buy BTC, and those borrowing BTC aim to short it.
When the Margin Lending Ratio is high, it indicates that the market is bullish. When it is low, it indicates that the market is bearish. Extreme values of this ratio have historically indicated trend reversals.
Trader insight
Robbie, OKEx Investment Analyst
While futures trading data indicators have shown bearish signals with occasional negative premium and a low Long/Short Ratio, BTC is still finding support at the bottom of the rising channel shown above. If it fails to recover and drops below the channel, we may see another dive towards $7,400 in the mid-term.
In the short-term, the $9,300 support has now become a strong resistance, and BTC will need to breach it in order to have another shot at recovery.
---
Disclaimer: This material should not be taken as the basis for making investment decisions, nor be construed as a recommendation to engage in investment transactions. Trading digital assets involve significant risk and can result in the loss of your invested capital. You should ensure that you fully understand the risk involved and take into consideration your level of experience, investment objectives and seek independent financial advice if necessary.
---
OKEx Insights presents market analyses, in-depth features and curated news from crypto professionals.