Bitcoin Back Under $9K with Halving Less Than 24 Hours Away: Market Watch Weekly
Bitcoin (BTC) received a lot of attention in the past week with its rally to $10,000 ahead of the third block-reward halving event. However, the leading digital currency could not hold that level for long and saw a quick, 15 percent pullback on Sunday.
Having marked a low of $8,107 on Sunday, BTC is now trading around $8,650 as per OKEx BTC Index Price.
Bitcoin still outperformed major asset classes
Despite the weekend plunge, Bitcoin has remained the best performing asset through the year, even as many other asset classes recovered from the March selloff.
With Sunday's closing at $8,658, the leading digital asset has posted YTD gains of 21.83 percent, outperforming long-dated U.S. Treasuries and Gold, which stood at 21.04 percent and 12.21 percent respectively.
Since the market rushed to liquidity and saw interest rates falling in February and March, U.S. Treasuries and Gold benefit from the panic-driven pursuit of safe-haven assets. Moreover, Bitcoin's return is also considerably higher than the Nasdaq, Shanghai Composite and S&P 500.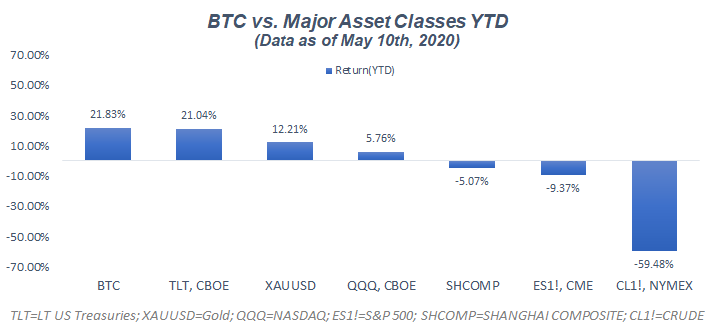 Altcoins remain slow and weak
During the last week, Bitcoin started its rally from May 6 and went above $10,000 on May 7 for the first time since Feb. 24. While altcoins did not follow the price action initially, they did appear promising after Bitcoin crossed $10,000.
However, the weekend pullback has hit the altcoins much harder than Bitcoin. According to data from MVIS, Bitcoin posted a loss of -2.2 over the week whereas Ethereum (ETH) and Litecoin (LTC) saw much bigger losses with -10.23 percent and -12.42 percent respectively. Bitcoin Cash (BCH) was also majorly negative with a weekly return of -7.13 percent.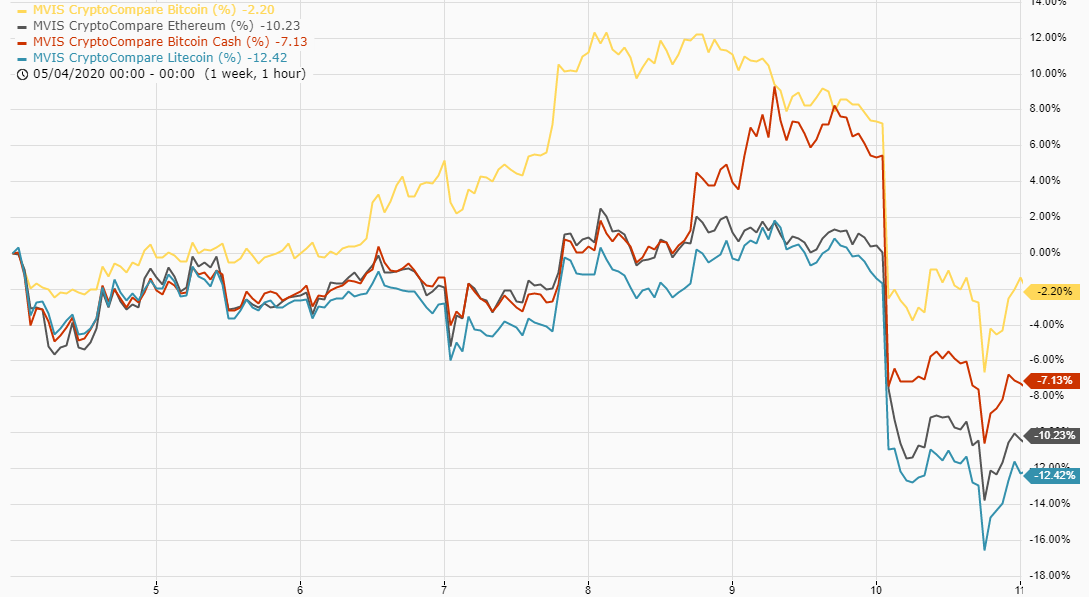 BTC Put/Call Ratio shows market risk awareness
The derivatives market did not align with the mid-week price rally as traders remained cautious. Bitcoin's put/call ratio rose sharply as its price went higher, indicating that traders were hedging against risk. On May 8, Skew data showed that Total BTC Options Open Interest exceeded $1 billion for the first time in history.
According to QCP Capital's analysis on May 6, "large BTC holders selling 1 week to 1 month 10-12k calls on part of their holding; while at the same time also selling 1 to 3 month 6-8k puts, capitalizing on the still present put skew in the belly". This showed that large holders were not too confident of further price increases after the halving, and the price of Bitcoin did reflect this sentiment after repeated rejections at the $10,000 level.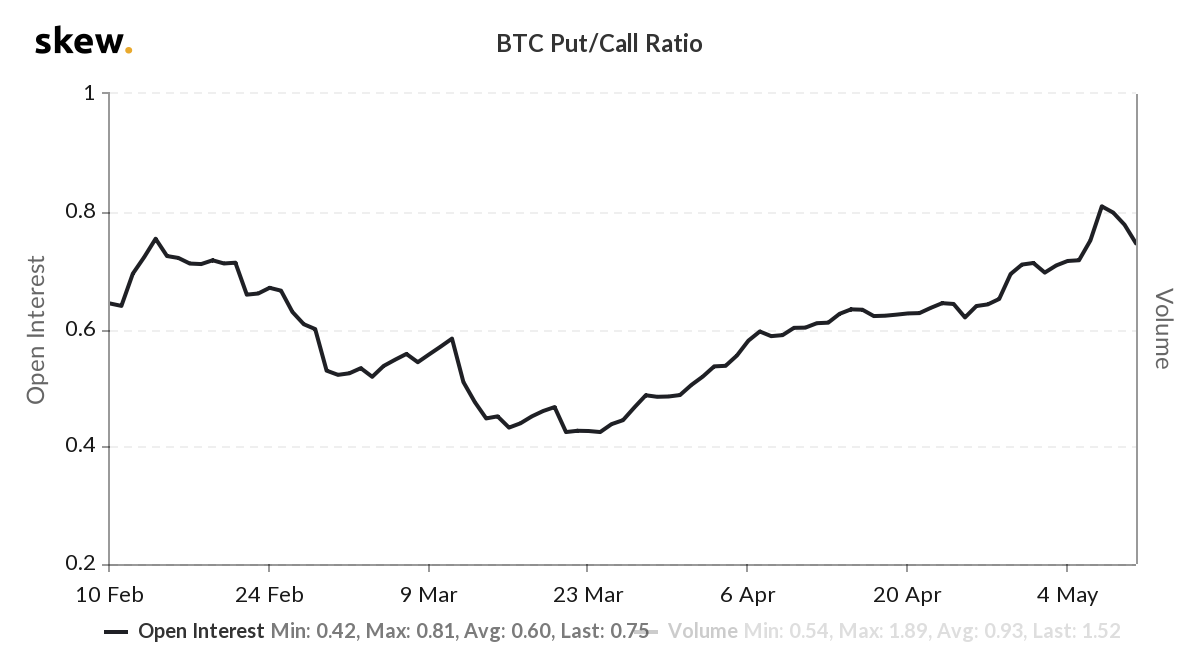 Consolidation can support a post-halving bull market
Bitcoin's price appears to have failed to move beyond the big triangle formed since 2017 highs. If the $8,400 level cannot hold, we are looking at a likely downward move to the 200-day moving average, currently sitting at $8,050. However, at these levels, the weekend price drop can be considered a healthy correction leading to consolidation ahead of a post-halving bull market.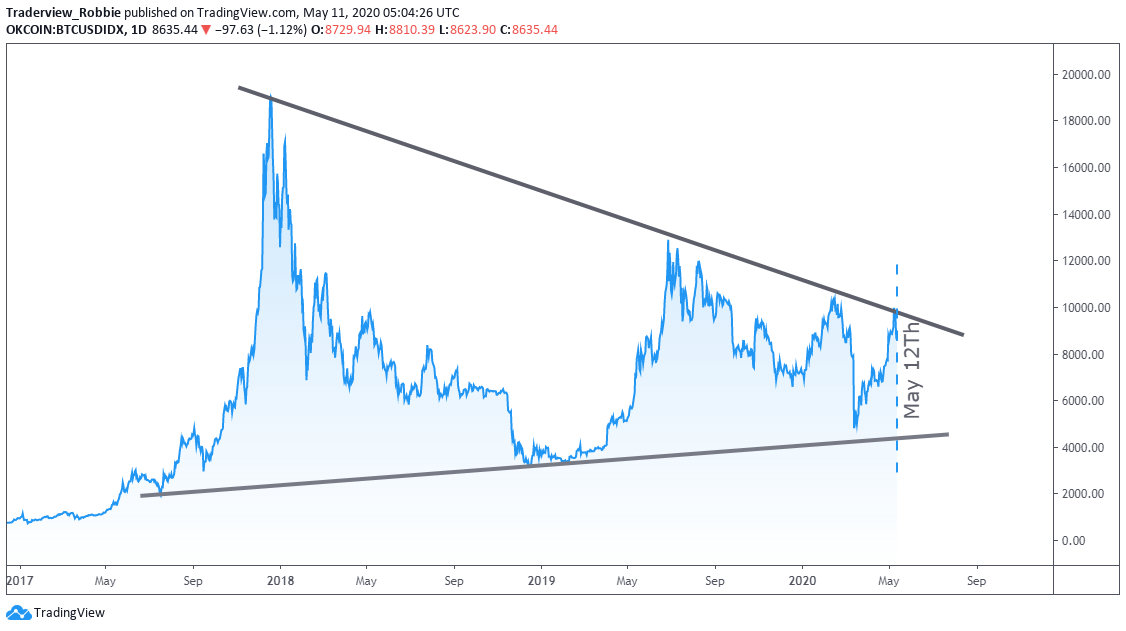 ---
Disclaimer: This material should not be taken as the basis for making investment decisions, nor be construed as a recommendation to engage in investment transactions. Trading digital assets involve significant risk and can result in the loss of your invested capital. You should ensure that you fully understand the risk involved and take into consideration your level of experience, investment objectives and seek independent financial advice if necessary.
---
Follow OKEx on:
Twitter: https://twitter.com/OKExInsights
Telegram: https://t.me/OKEx_Insights