Bitcoin in 2017 vs. 2020 — This time, it's different
A comparison of the Bitcoin bull run in 2017 to 2020 and how the market has changed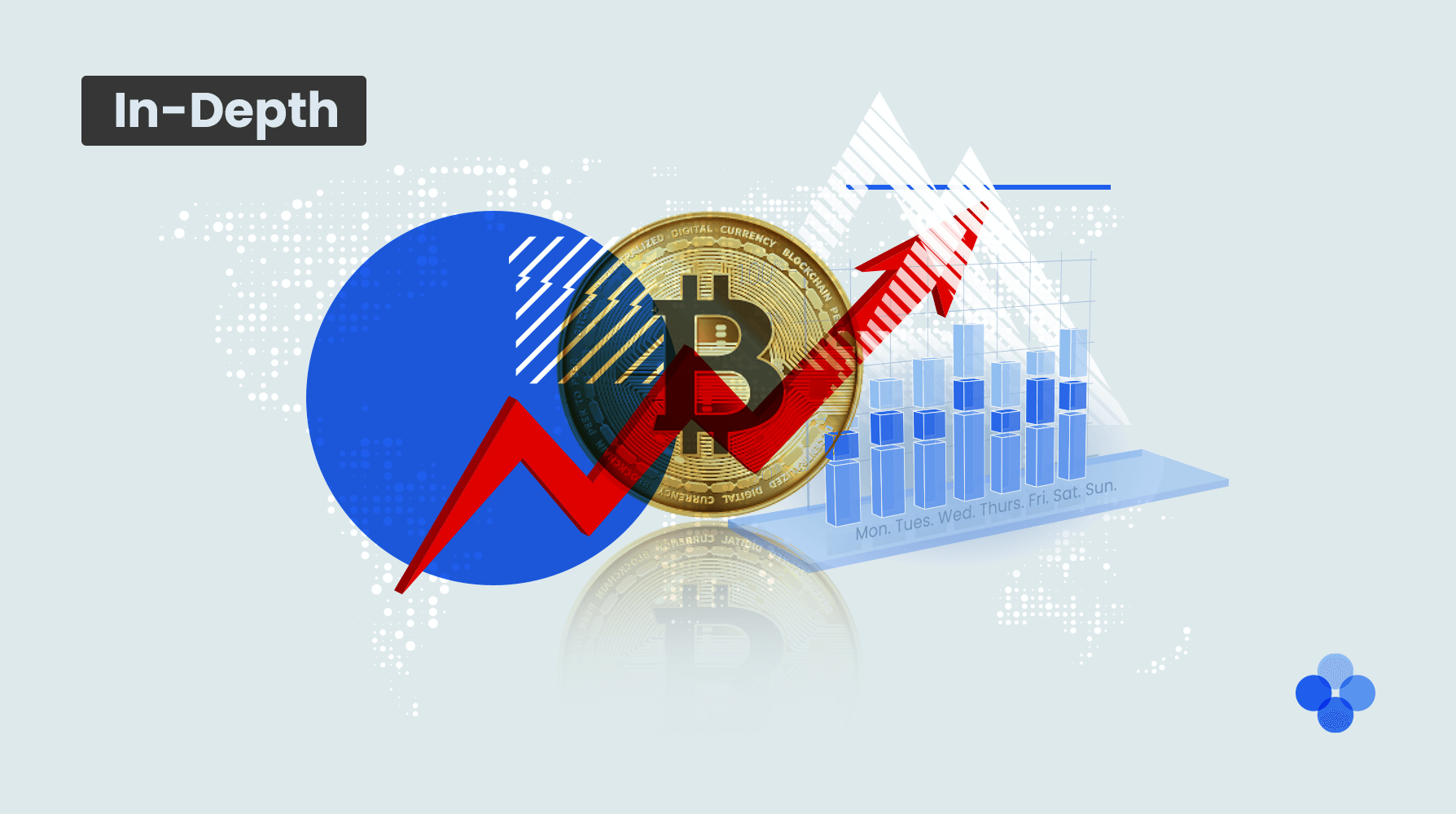 The crypto community witnessed a historical moment last week as the price of Bitcoin — which had breached its 2017 all-time on Dec. 16, 2020 — posted a new record of $34,684 on Jan. 3, 2021. Looking back at 2020, Bitcoin outperformed major asset classes and posted a yearly gain of 303.5%, starting the year at $7,193 and ending it on $29,022.
While the crypto market hype in 2017 was driven by the emergence of initial coin offerings and speculative trading, the market in 2020 showed signs of maturity driven by strong network fundamentals, institutional demand and growing adoption in the retail sector.
In order to highlight these changes, OKEx Insights compared and evaluated the current Bitcoin bull market against the 2017 boom in light of the following factors:
Network fundamentals
Institutional cryptocurrency demand
Cryptocurrency derivatives markets
Retail adoption of cryptocurrencies
Network fundamentals
Network hash rate and address analytics are among the key metrics used to assess the state of the Bitcoin network.
Hash rate measures the processing power of the entire network, and increases as more miners commit to it. A high hash rate effectively secures a network and prevents attack vectors like the 51% attack.
Compared to 2017, the current Bitcoin network hash rate is significantly higher, reflecting general stakeholder confidence. In 2020, we saw an all-time high hash rate of 146 million, which also resulted in an all-time high mining difficulty level of 19.99 trillion in early November. This is in stark contrast to 2017 when the hash rate only hit 15.26 million at its peak and mining difficulty topped out at 1.93 trillion.
Notably, we also saw Bitcoin's third reward halving take place in 2020, and while there were concerns around miners leaving the network due to lowered profitability, we have instead seen more growth since then, reflecting stakeholder confidence in Bitcoin's longevity.
The growth of active addresses on the Bitcoin network also reflects adoption to some extent, as it indicates user growth. While there was an initial drop in the number of active addresses after the Bitcoin boom in 2017, the number once again gained momentum and reached 1.19 million in late 2020. However, it has not yet crossed the all-time high of 1.25 million from 2017 due to the relative lack of fresh entrants this past year.
Another useful on-chain metric is the number of addresses with 1,000 BTC or more. Looking at statistics from Glassnode, this number grew from 1,600 in early 2018 to 2,275 in December 2020. This shows accumulation in this period by whales and institutions, which is another positive sign and a vote of confidence in Bitcoin's network and value prospects.
Bobby Ong, the co-founder of CoinGecko, told OKEx Insights that, in general, the Bitcoin network fundamentals have grown tremendously since 2017:
"I would say that all the fundamental network metrics have grown significantly since 2017. The network is more mature than previously, and we are seeing larger institutions supporting BTC. These days, large publicly listed companies like MicroStrategy and Square are carrying BTC in their Treasury. PayPal has also started selling BTC to its customers. Large banks have also started [including] Bitcoin coverage in their research reports. All these signify maturity in the Bitcoin ecosystem."
Institutional cryptocurrency demand
Compared to the Bitcoin boom in 2017, the current Bitcoin bull run is mainly driven by strong institutional demand in cryptocurrencies. The growth of this demand is evident in the following segments:
Sizable Bitcoin investments from leading financial institutions
Massive growth in crypto funds and institutional Bitcoin whales
Competition among Wall-Street giants to launch crypto-related services
Sizable Bitcoin investments from leading financial institutions
During the Bitcoin boom in 2017, institutions were highly skeptical of crypto assets and were critical as to their growth prospects. For instance, JPMorgan Chase CEO Jamie Dimon repeatedly slammed Bitcoin that year and negatively impacted its price.
Since then, we've seen a major shift in institutional sentiment as big names started seeking Bitcoin and crypto exposure over the past year. MicroStrategy, for instance, disclosed a $250 million Bitcoin purchase in July 2020, followed by another $50 million purchase in early December. Three months after MicroStrategy's first investment, Square Inc. invested $50 million in Bitcoin, while insurance giant MassMutual announced a Bitcoin purchase of $100 million and a $5 million equity stake acquisition of NYDIG.
This trend, which is set to continue, is in stark contrast to 2017, and it reflects the growing acceptance of Bitcoin as an alternative asset, thereby giving it more value.
Massive growth of crypto hedge funds and institutional whales
While there was little institutional investment in Bitcoin during 2017, crypto investments from hedge funds have seen massive growth over the past three years. The total asset under management figure of global crypto hedge funds doubled to over $2 billion in 2019 and is expected to triple by the end of 2020. In addition, the percentage of crypto hedge funds with an AUM over $20 million increased from 19% to 35% in 2019.
The accumulation of Bitcoin by institutional investors can also be seen in inflows and patterns of unspent transactions or UTXOs. As seen in the chart below, there has been a significant accumulation of Bitcoin by institutions this past year, particularly from November onward.
Grayscale is the earliest and largest Bitcoin whale among financial institutions. As the first digital currency investment vehicle to attain the status of a United States Securities and Exchange Commission-reporting company, Grayscale Bitcoin Trust first purchased BTC in 2015, and its shares are held by more than 30 institutional investors. Grayscale also increased its BTC holdings during the recent Bitcoin bull run, adding 55,015 BTC in November and 72,950 BTC in December. As of Jan. 4, 2021, GBTC holds 572,644 BTC or $18.99 billion in assets under management.
Wall Street giants compete to launch crypto-trading services
While most of the big names on Wall Street were highly skeptical of Bitcoin in 2017, we have seen a change of opinion by the very same skeptics, who have started launching crypto-related services more recently.
Fidelity Investments is one of the pioneering Wall Street giants that entered the crypto space. The company first set up its digital arm, Fidelity Digital Assets, and launched crypto custody services in 2018. To cater to the growing demand for Bitcoin from family offices, Fidelity also launched Fidelity Digital Funds in August. The fund is passively managed and custodied by Fidelity Digital Assets. Apart from Fidelity, Standard Chartered's fintech arm, SC Ventures, also partnered with Northern Trust to launch crypto custody solutions for institutional clients.
Compared to crypto custody, crypto trading is a more heated battlefield among banking giants due to enormous institutional demand. Belarusbank, for instance, launched the country's first crypto-trading platform in November, and this was followed by a proposed soft launch of DBS Digital Exchange backed by Singapore's largest bank in December. Other banking giants are also reportedly launching their own crypto-trading desks, including Standard Chartered, BBVA, State Bank of India and Japan's SBI Holdings.
Ong at CoinGecko believes that the competition in launching crypto-related services among Wall Street giants will only intensify in the future, resulting in high-profile mergers and acquisitions. He told OKEx Insights:
"Eventually Wall Street will want a piece of this crypto pie and there will be active M&A in the space where institutions will seek to acquire existing players to buy industry know-how and customer relationships. We are not seeing it yet but it will happen soon."
Crypto derivatives market shows maturity in 2020
Apart from the market hype driven by ICOs, the Bitcoin boom in 2017 also marked the beginning of a burgeoning crypto derivatives market. Cboe was the first traditional service provider to launch mainstream Bitcoin futures contracts on Dec. 10, 2017, and each contract represented 1 BTC. CME followed Cboe to launch its own Bitcoin futures a week later, and each CME contract represented 5 BTC.
While Cboe stopped listing Bitcoin futures in March 2019 due to a lack of retail interest, crypto derivatives have grown tremendously since then. Driven by strong institutional demand, the aggregate open interest in Bitcoin futures reached an all-time high of over $10 billion in early January 2021.
This growing crypto derivatives market is one of the fundamental factors supporting the Bitcoin bull run in 2020. In contrast, the same market arguably popped the 2017 bubble.
Commenting on the state of crypto derivatives, Emannuel Goh, co-founder of data analytics firm skew, told OKEx Insights:
"Derivatives products have seen tremendous growth since 2017, first with the rapid emergence of futures and perpetual swaps and now with options. We believe this has contributed to a better price discovery process for Bitcoin and ultimately helps reduce its volatility."
Retail adoption of Bitcoin
The retail adoption of Bitcoin received a massive boost in 2020 following PayPal's decision to support Bitcoin and other leading cryptocurrencies. The payment processing giant's crypto offerings are now available to U.S. customers, and the company plans to extend the services to Venmo in 2021.
Notably, there were many early attempts to boost Bitcoin's retail adoption in 2017. For instance, United Kingdom-based digital bank Revolut launched its cryptocurrency services in 2017, allowing users to purchase and trade BTC, LTC, ETH, BCH, XRP and XLM in supported regions. While Revolut has seen significant growth since then, its offering did not make Bitcoin more spendable.
With PayPal joining the space this past year, we can expect a massive adoption drive in the coming year. Compared to Revolut, which has 12 million users, Paypal has hundreds of millions, and it is further able to leverage its subsidiary Venmo, which has 52 million users and dominates the mobile payments market among American millennials.
As summarized by Henri Arslanian, PwC's global crypto leader, PayPal is a big win for Bitcoin:
"Whilst other payment firms in the U.S, like Robinhood or Square, already offered access to crypto, PayPal is by far bigger and more international."
Conclusion
The 2017 Bitcoin boom was largely driven by speculation and the ICO hype. This hype started to cool down in early 2018 due to regulatory pressure from the U.S. SEC, whose chairman, Jay Clayton, warned investors against ICOs because of price manipulation and legality issues. This development, coupled with the availability of futures, resulted in a crypto winter throughout 2018 and most of 2019.
Compared to the Bitcoin boom in 2017, the recent bull run is not driven by ICO hype. Instead, we witnessed broad changes — be it increasing institutional interest, regulatory clarity, market maturity, retail adoption or stronger network fundamentals — that validated Bitcoin and gave it recognition as a valid asset class worth considering. In short, this time it really is different.
---
OKEx Insights presents market analyses, in-depth features, original research & curated news from crypto professionals.