Bitcoin Keeps Knocking on $10,000 as Bulls Await Breakout: Crypto Market Daily
The Federal Reserve decided on Wednesday, June 10, to hold interest rates steady at nearly zero percent through at least 2022. Impacted by the FOMC announcement, gold pumped as much as three percent to close above $1,730. Silver was more prominent, rising as much as five percent in a short period of time. Meanwhile, Nasdaq continued to rise and hit another record high yesterday, closing at 10,017.
Bitcoin (BTC) rose from $9,750 to $10,000 and was up 2.5 percent during the American session before quickly falling back to $9,700. The leading cryptocurrency was trading around $9,723 as of 10:00 UTC, as per OKEx's BTC Index Price.
Bitcoin continues to face selling pressure above $10,000 as shown by the quick rejections after reaching this area. After multiple attempts of breaking through the $10,000 threshold, market participants are now debating when the supply will eventually dry up.
Looking at large-cap cryptocurrencies, Ethereum (ETH) and Litecoin (LTC) outperformed Bitcoin over the last 24 hours — gaining 1.08 percent and 1.0 percent, respectively.
The total cryptocurrency market capitalization has been up another 0.6 percent to $279.6 billion. However, Bitcoin dominance remains at 64.5 percent for the third consecutive day, per data from CoinGecko.

Top gainers and losers
PST/USDT +36.84%
ZEN/USDT +24.70%
CHAT/USDT +23.89%
YOU/USDT -5.61%
ROAD/USDT -7.98%
BEC/USDT -15.79%
According to OKEx spot data, PST is the top gainer over the last 24 hours with a 36.84 percent return. The other two on the top gainers' list are ZEN and CHAT.
Moreover, several mid-cap coins soared due to the possible listings on Coinbase — such as DGB, with a 20 percent increase.
BEC is the biggest loser over the last 24 hours.
OKEx took 30 percent of spot market share in May
According to Coinmetrics, retail investors began to focus more on risky small-cap coins in May. Data shows a trend of trading volumes shifting from the fiat onramp exchanges to those servicing the lesser-known coins and tokens.
The market share of exchanges also made a corresponding move. OKEx achieved the largest increase in market share among all selected exchanges. Right now, OKEx has acquired more than 30 percent of spot market share in May — this number was around 25 percent in April.
Moreover, the report noted the volumes for BTC and ETH both decreased and shifted to altcoins, such as OKEx's exchange-token OKB. Coinmetrics also commented on a strong signal that 'altseason' has arrived.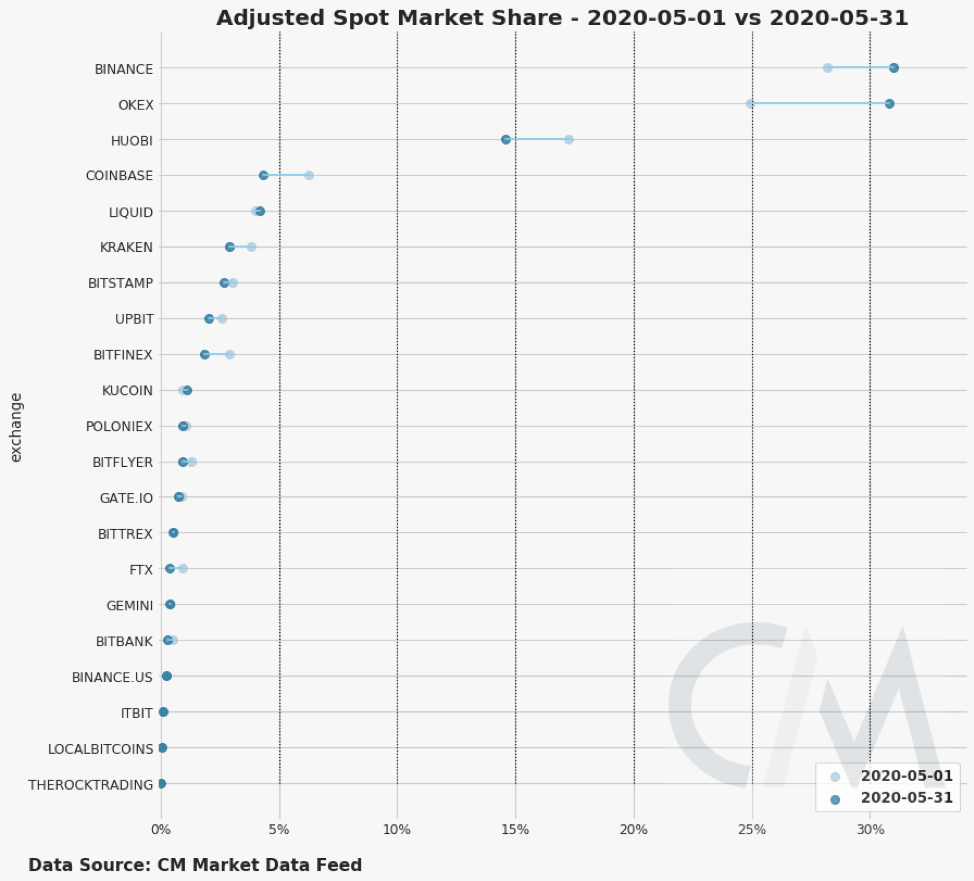 Bitcoin technical analysis
Bitcoin's price briefly broke through the $10,000 barrier before falling again yesterday. Given the repeated rejection at this level, traders should remain cautious instead of chasing pumps to avoid buying at the peak.
Bitcoin is still primarily trading in a tight range between $9,700 and $9,900, as per OKEx Quarterly Futures (BTCUSD0626) price. The numerous failed attempts at crossing the $10,000 mark have been constantly draining the selling pressure, but a breakout is not a certainty as yet.
The critical support level in the short-term is $9,450, after which a test of $8,550 is possible.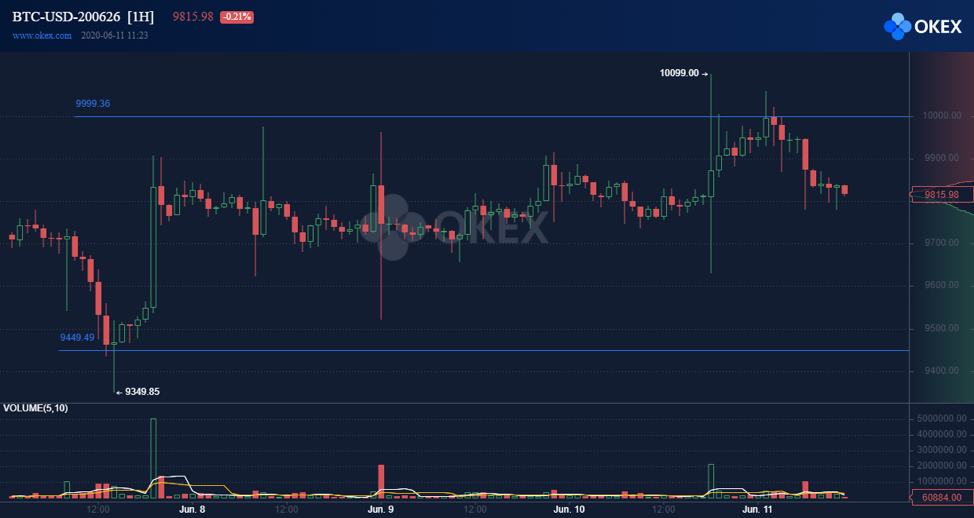 Ethereum technical analysis
Ethereum could challenge the $250 resistance once again if the price holds above $246 intraday. However, short-term uncertainty and a fake breakout cannot be ruled out.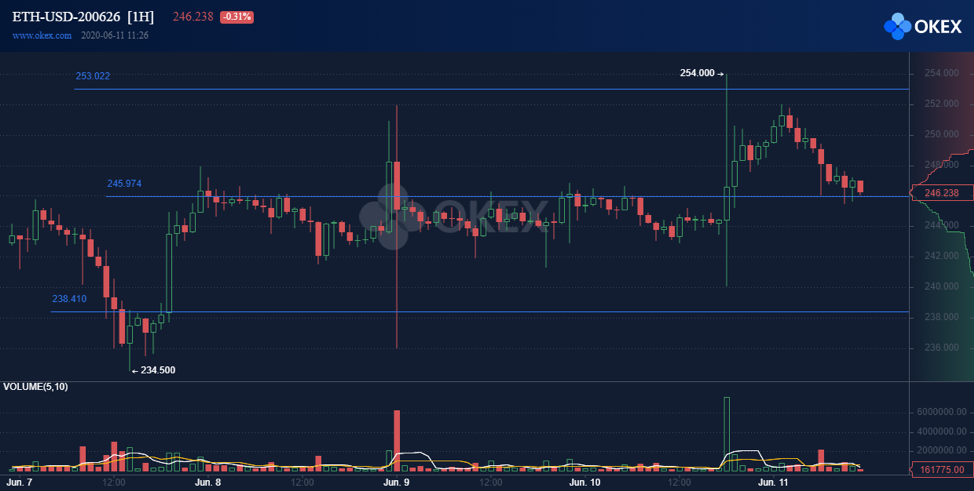 ---
Disclaimer: This material should not be taken as the basis for making investment decisions, nor be construed as a recommendation to engage in investment transactions. Trading digital assets involve significant risk and can result in the loss of your invested capital. You should ensure that you fully understand the risk involved and take into consideration your level of experience, investment objectives and seek independent financial advice if necessary
---
OKEx Insights presents market analyses, in-depth features and curated news from crypto professionals.