Bitcoin price sees healthy pullback after four consecutive weeks of gains
The price of BTC dropped around $10,000 yesterday as overheated market sentiment came calling — here's our analysis of the crash.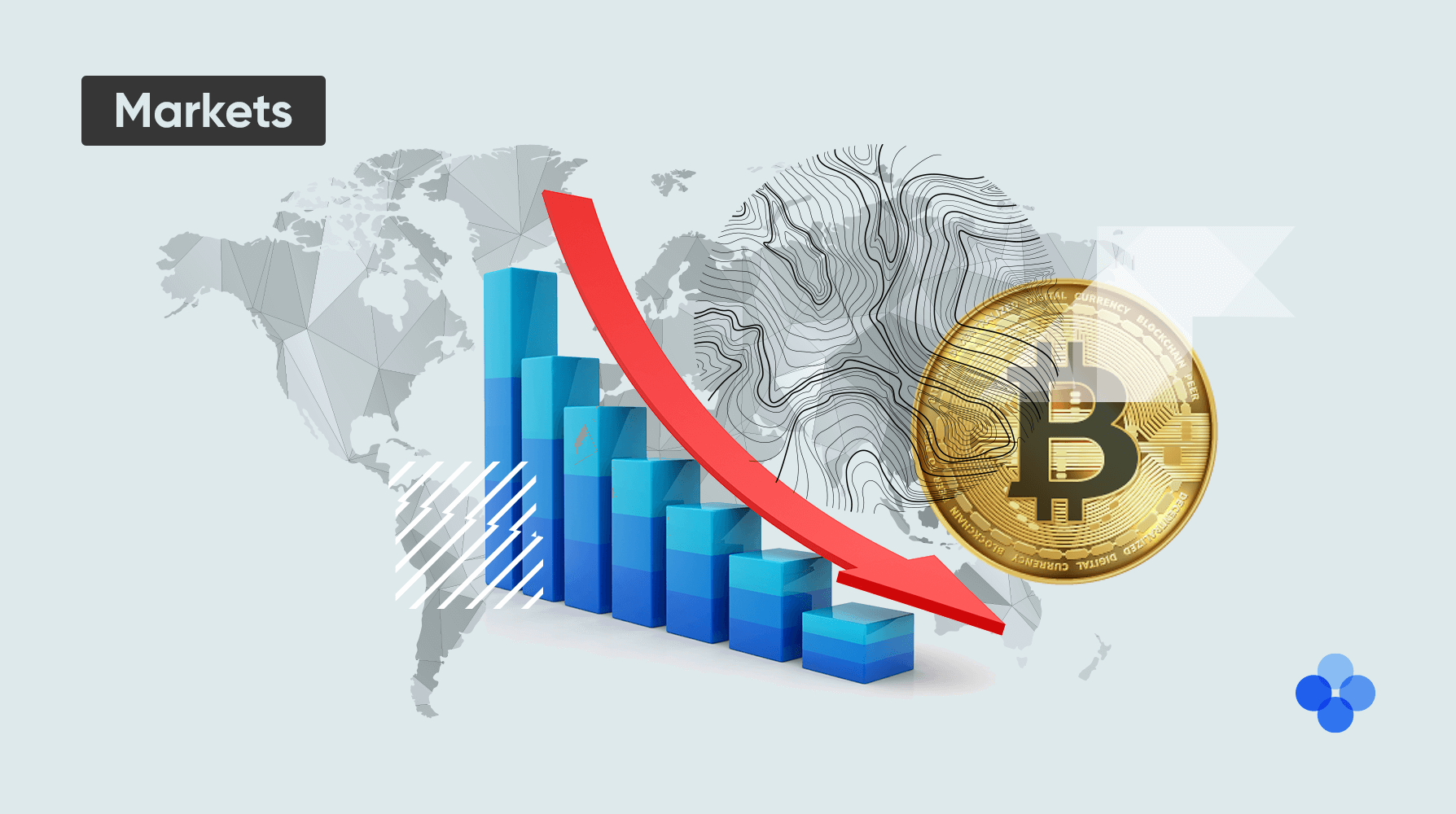 Bitcoin plunged more than 10,000 USDT yesterday, Feb. 22, under the influence of a variety of factors, falling 18% from a high of 58,318 USDT on Sunday evening to a low of 47,668 USDT, as per the OKEx BTC spot price. The drop came just after the market leader saw its fourth consecutive week of gains.
In what became another "Black Monday" in the cryptocurrency market, circumstances were similar to those on Jan. 11. U.S. Treasuries continued to be sold off at the beginning of the week, causing yields to surge. Rising bond yields then put pressure on the stock market, where we saw the Nasdaq Index fall the most in nearly four months, with Apple stock down 3% and Tesla shares dropping more than 8% on Monday.
In a departure from the market behavior on Jan. 11, gold prices did not fall yesterday, and instead, gained the most they had in seven weeks. Crude oil prices also hit 13-month highs, reflecting the fact that investors are beginning to price in rising inflation expectations. Since Bitcoin's market capitalization has continued to rise in the last couple of months, its correlation with interest rates and the macro economy has become even stronger.
Moreover, U.S. Treasury Secretary Janet Yellon warned yesterday that Bitcoin is a highly speculative asset and is an "extremely inefficient" way to conduct monetary transactions. Her words have also put the cryptocurrency market under pressure.
A big hit to bullish chasers
Before the sudden crash on Monday, Bitcoin had achieved a monthly return of over 80% in February and its total market capitalization surpassed the $1 trillion mark. The market leader has been fueled by various news including Tesla's major BTC purchase, MicroStrategy's debt offering to buy more Bitcoin, and the launch of the first Bitcoin ETF in North America.
Market sentiment was clearly overheated, which was reflected in funding rates that hovered around 0.1% for an extended period of time, and a historical high of $19 billion in open interest on Feb. 21. This event-driven cycle had made it difficult for the market to move up organically, paving the way for a correction.
Yesterday's decline also led to panic selling on Coinbase, and the exchange had its largest negative premium ever due to a lack of buying on the orderbook. The Coinbase premium hit an all-time low of negative $1,020 during yesterday's sell-off, per data from CryptoQuant.
In addition, from a technical analysis perspective, the bullish momentum showed exhaustion following the latest all-time high, as the Relative Strength Index indicator posted consecutive bearish divergences on the 1-hour and 4-hour charts. This happens when the RSI posts an "overbought" reading — in response to lower highs in price — that matches readings from previously made higher highs.
Yesterday's sharp retracement set another record high for liquidations in the derivatives market. Bitcoin alone saw $3.64 billion positions get liquidated across exchanges, surpassing the $2.5 billion in positions liquidated on Jan. 10 and $1.74 billion on Jan. 3.
Market reactions to the BTC price drop
The plunge in crypto prices yesterday saw interesting market reactions. Firstly, there was a spike in the exchange rate of Chinese yuan to USDT. According to OKEx trading data, USDT's premium in the P2P market turned from negative to positive yesterday, briefly surging to 1.76%. This figure indicates that there were many traders looking to buy USDT to add margin to their positions.
Ethereum and its ecosystem was also impacted by the drop. The price of Ether (ETH) fell by 21.68% at its lowest point. According to OKLink data, the 24-hour trading volume of decentralized exchanges on the Ethereum network reached a record high of $5.09 billion as of the time of writing. The largest 24H volume, $1.87 billion, was seen on Uniswap, followed by $1.2 billion on SushiSwap.
A large number of liquidity providers attempting to remove their funds to avoid impermanent losses and on-chain loaners filling margin to prevent liquidation pushed the cost of gas — the Ethereum network usage fee — to 1,000 gwei levels, per Ethereum Gas Tracker.
This means that the cost of removing liquidity on Uniswap was almost $300 yesterday. Even in such an expensive on-chain environment, Uniswap's total value locked has decreased by 10.8% in the last 24 hours, and SushiSwap's TVL dropped by 8.8%. Other leading lending platforms Compound and Maker also saw 8% declines in TVL. This situation once again shows the urgent need for scalability upgrades on the Ethereum network.
Bitcoin fundamentals still in play
Looking forward, the influx of institutions into the cryptocurrency market remains a significant factor for the stabilization of Bitcoin prices. Substantial price volatility in Bitcoin as an emerging alternative asset continues to be inevitable at this stage, but growth in the number of BTC holders and buying channels will provide support for the price.
For now, the top cryptocurrency remains dependent on changes in macroeconomic indicators. This week, the market will focus on the Federal Reserve Chairman Jerome Powell's speech during the Senate and House hearings. Markets are concerned whether the Fed's dovish strategy can be sustained and whether rising U.S. Treasury yields pose a risk to economic recovery.
In the mid-term, a new round of massive fiscal stimulus is getting closer. The Senate is expected to send a new $1.9 trillion stimulus package to President Biden by March 14. The resulting abundant supply of fiat arguably remains a favorable factor for the rise of risky asset prices.
---
Not an OKEx trader? Learn how to start trading!
OKEx Insights presents market analyses, in-depth features, original research & curated news from crypto professionals.