Bitcoin Traders Show Caution as Halving Fast Approaches: Crypto Market Daily
As of press time (11:10 UTC), Bitcoin (BTC) is trading at $9,345.11 (3.25 percent) per OKEx's BTC Index Price. It is also leading the daily Token Index Board.
The market share of BTC has continued to increase since yesterday — rising from 66.1 percent to 67 percent, per data sourced from CoinMarketCap.
The price of Bitcoin surged past the $9,100 resistance yesterday and tested $9,400 twice. It then pulled back and consolidated around $9,300 after bottoming out near $9,000.

Bitcoin's Long/Short Ratio is stagnating
Looking at OKEx trading data, we found that BTC Futures Open Interest (OI) rose by six percent while the market-leading cryptocurrency rose sharply to $9,400. Afterward, it gradually decreased.
The BTC Long/Short ratio is still around 1.0 — indicating that retail traders are not optimistic about the short-term price movement.

Put/Call Ratio shows traders are cautious before halving
The BTC Put/Call Ratio on the options market is increasing to 0.75, per data sourced from Skew — indicating that traders are buying puts to hedge long positions ahead of Bitcoin's third block-reward halving.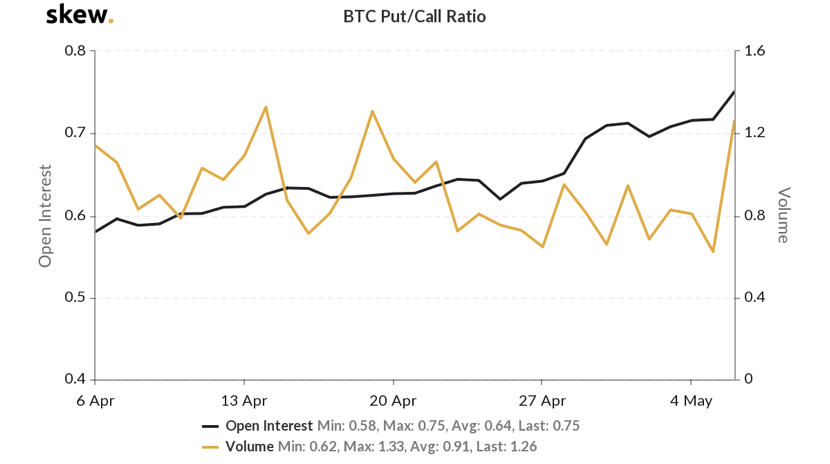 BTC Technical Analysis
Looking at OKEx BTC Quarterly Futures (BTCUSD20200626), the price of Bitcoin has formed a pennant breakout after yesterday's rise — but the volume did not explode.
Momentum indicators, such as the Moving Average Convergence Divergence (MACD) and Relative Strength Index (RSI), showed some lower-time frame bearish divergences.
An intra-day support level exists at $9,000 and short-to-mid-term support is still sitting near $8,550. The intraday resistance area to focus on is around $9,500. After a brief period of consolidation, we could potentially see another leg up to the $9,600 area.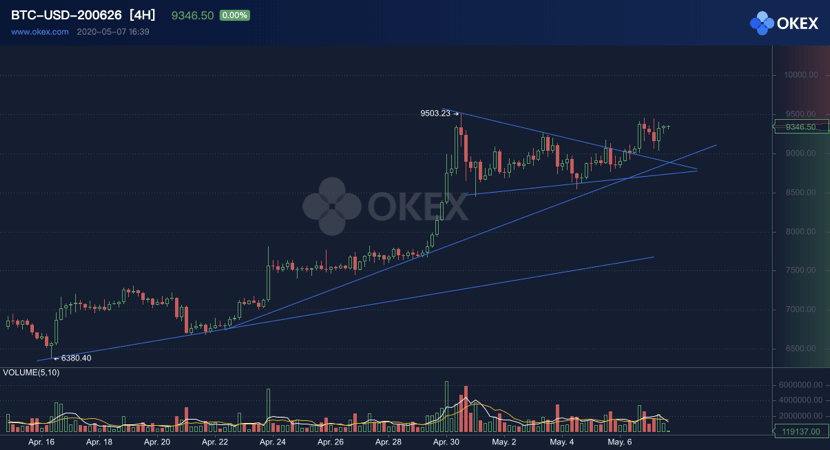 DigiByte sees epic price surge
DigiByte (DGB), an altcoin that launched in 2014 and prides itself on its transaction speed, has been up about 800 percent since its March 13 low of $0.00255.
As of press time, DGB — currently the 32nd largest cryptocurrency by market cap — is trading around $0.02352 — down 6.5 percent per OKEx DGB/USDT spot price.
The altcoin's all-time high price is $0.143, which was achieved in July 2018.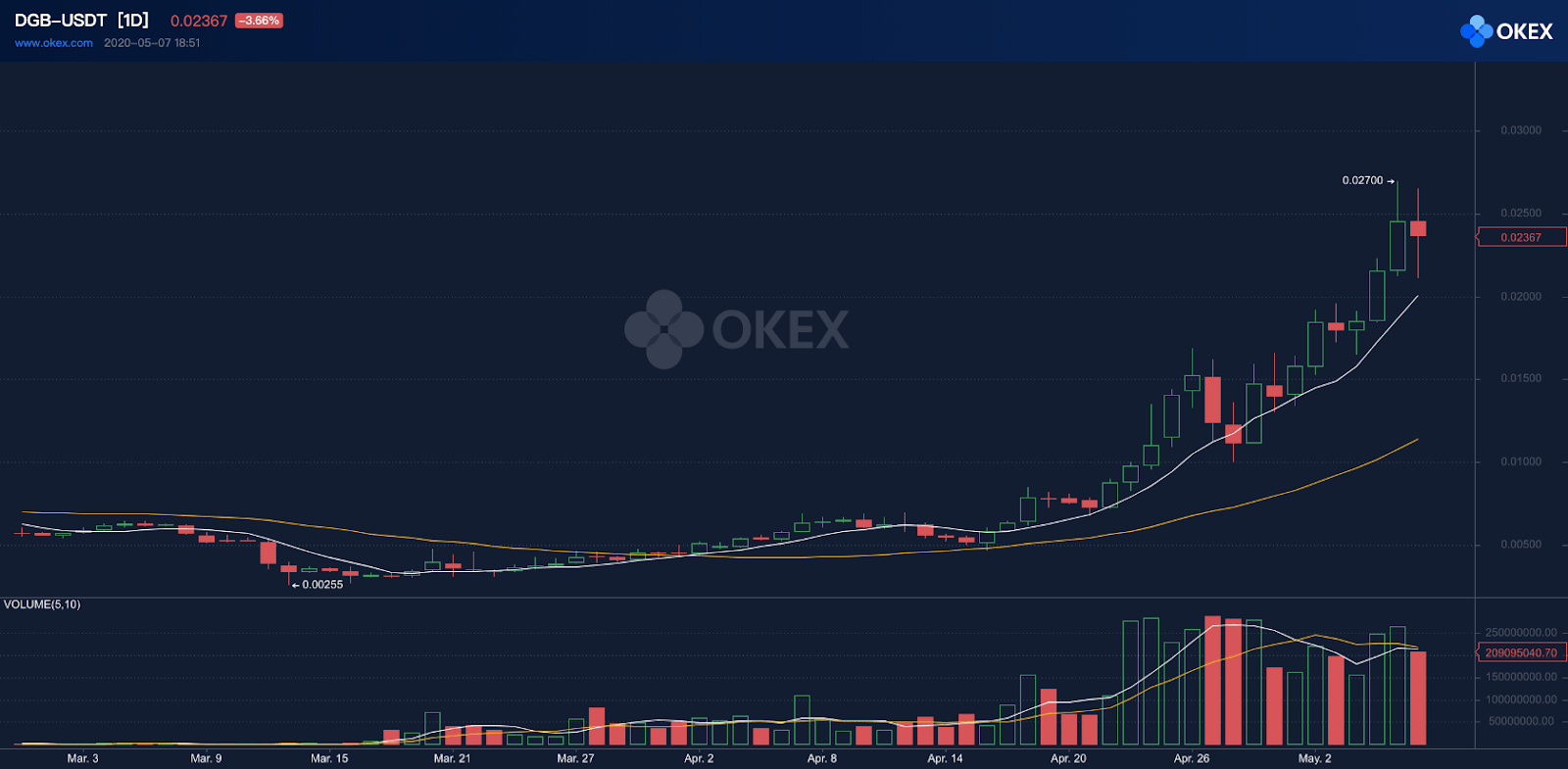 DigiByte Foundation Vice-Chairman Rudy Bouwman has attributed the rise in price to DigiByte's legitimacy in the cryptocurrency market, telling Decrypt:
"DigiByte is genuine. No ICO, no company, no manipulations, no bad intentions, no money grabbing. All volunteers. DigiByte is for the community and by the community."
At the same time, DigiByte founder Jared Tate backed up the claims of legitimacy by tweeting that the coin "is actively suppressed [sic] by leading crypto exchanges/media."
---
Disclaimer: This material should not be taken as the basis for making investment decisions, nor be construed as a recommendation to engage in investment transactions. Trading digital assets involve significant risk and can result in the loss of your invested capital. You should ensure that you fully understand the risk involved and take into consideration your level of experience, investment objectives and seek independent financial advice if necessary.
---
Follow OKEx on
Twitter: https://twitter.com/OKExInsights
Telegram: https://t.me/OKEx_Insights