China's Blockchain Push: an In-Depth Look at Government Policy, Enterprise and Investment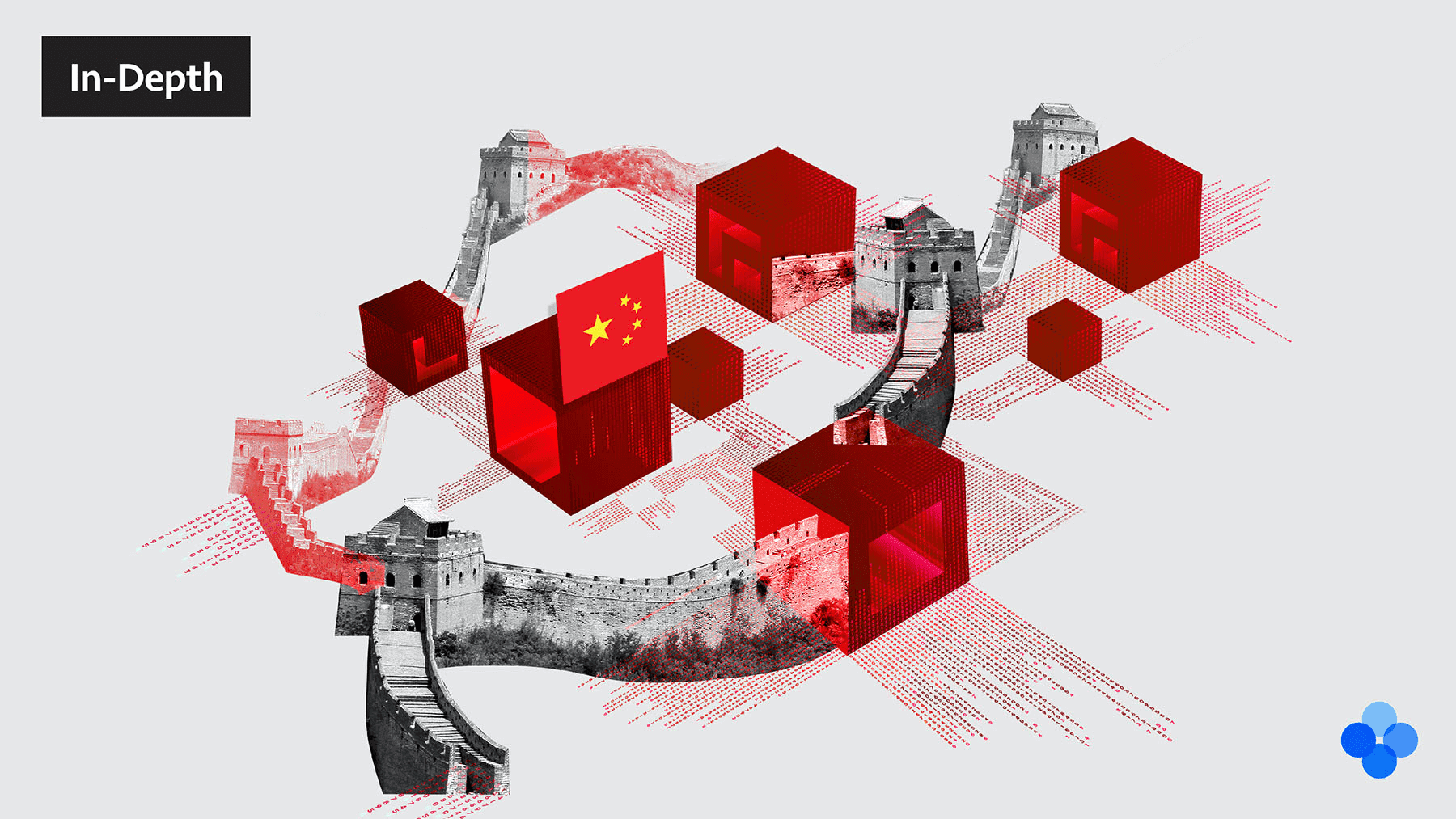 Last month, during China's annual meeting on national policy, blockchain was a widely discussed topic. China's "Two Sessions" meeting, also known as "Lianghui," began on May 22, after being postponed from March due to the COVID-19 pandemic.
Lianghui is by any measure an important political event, determining what areas China's official policy will focus on in the coming year. The meeting gathers over 2,000 members of the Chinese People's Political Consultative Conference (CPPCC) and the National People's Congress (NPC). Members submit proposals during the meeting, which are then summarized by Premier Li Keqiang in the Work Report, which highlights policy priorities and economic goals for China in the year to come.
During this year's session, on May 23, Jieqing Tan, Deputy of the NPC, urged China to expedite its blockchain development by proposing the establishment of a government-led blockchain development fund. The proposed fund aims to support promising blockchain enterprises, encourage innovation involving the technology and cultivate blockchain unicorns in the long term.
Tan further suggested that China leverage the planning period of the "Fourteenth Five-Year" plan to lay down a national blockchain strategy for the country. From setting up blockchain technology standards at the bottom level, followed by a middle level of industry applications, the strategy will consist of a three-dimensional system of technology, industry and regulation.
Since President Xi Jinping's push on blockchain development began last fall, blockchain has gained significant traction in China. OKEx Insights takes a closer look at the current state of the technology — and the ecosystem developing around it — in China.
Blockchain policy surge
As of April 2020, a report from Chinese consulting giant CCID indicates that China has emerged as a world leader in blockchain policy implementation. With 267 blockchain-related policies by the end of 2019, at both the state and local levels, CCID reports that China accounts for 45 percent of all government-led policies involving the technology. From 2016-2019, there were a total of 29 blockchain-related policies announced by national authorities in China, with 17 of them revealed in 2019 alone.
With 13 blockchain policies under its belt as of last year, the Ministry of Industry and Information Technology (MIIT) of China is the most active government player in this space, followed by the National Development and Reform Commission (NDRC) with 4 policies.
What do China's blockchain policies look like?
The enactment of a national law on cryptography on Jan. 1, 2020 is widely regarded as one of the most significant blockchain-related regulatory policies in China to date. According to the NPC Constitution and Law Committee, the law standardizes the application and management of cryptography and encourages best practices in developing cryptography-related businesses.
The law also includes a set of regulations around misconduct that involves cryptography. For instance, laying out how the legal system responds to people who steal others' encrypted information and engage in illegal hacks.
The Chinese government has also sought to establish nationwide blockchain standards. In April of this year, the MIIT issued a "Pub­lic No­tice on the For­ma­tion of a Na­tional Blockchain and Dis­trib­uted Ledger Tech­nol­ogy Stan­dard­i­z­a­tion Tech­ni­cal Com­mit­tee." Led by MIIT vice-minister Chen Zhaoxiong, the technical committee will consist of 71 professionals from political, industrial, academic and research organizations.
In terms of the number of blockchain policies announced by provincial and municipal governments, China's capital city, perhaps surprisingly, does not hold the lead. Rather, coastal province Guangdong boasts the most blockchain policies among all other regions in the country, with Beijing in fifth place, so far seeing 15 official policies announced.
Blockchain in business
As of 2019, there were 1,006 blockchain enterprises in China, 338 of which — or 33.6 percent — are based in Beijing, according to the CCID report. Beijing is followed by 254 in Guangdong and 122 in Shanghai. Among blockchain enterprises, the majority are finance applications, followed by supply chain, government services and invoice tracking.
Taking a deeper look into the financial applications of blockchain in China, enterprises are mostly focused on supply chain finance (36 percent), cross-border remittances (16 percent) and trade finance (14 percent).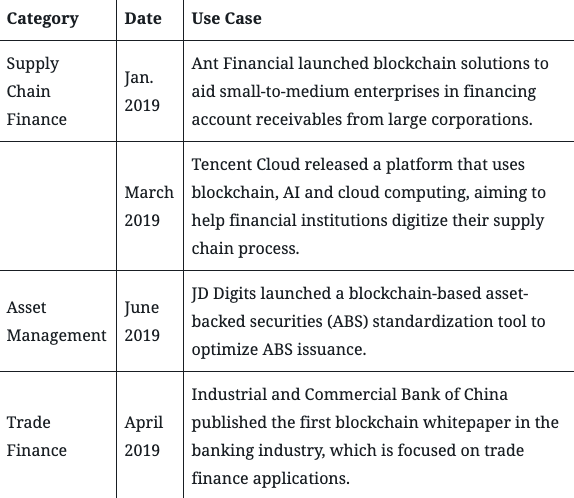 Aly Madhavji, managing partner of the Blockchain Founders Fund, told OKEx Insights in comments this week that he believes that China has gained an edge over the United States in the blockchain development race. He blames U.S. regulations around the emerging tech for the lag:
"China has seen a substantial increase in investment in blockchain technologies following numerous successful pilots across sectors including supply chain, insurance, and finance. In contrast, we have seen regulation in the United States continue to inhibit the innovations that blockchain provides.

Simultaneously, President Xi Jinping's advocacy for China to be a leader in blockchain has fueled widespread interest in the technology including the creation of China's Blockchain Service Network (BSN)."
Blockchain Service Network — a national blockchain?
The Blockchain-based Service Network (BSN) was launched in October 2019 and is meant to serve as the foundation for blockchain infrastructure in China's national blockchain strategy. BSN is a joint initiative of the State Information Center (SIC) and state-run enterprises such as China Mobile and China UnionPay.
Beta testing of the infrastructure began between October 2019 and March 2020. It was first piloted in Hangzhou, gathering more than 2,000 developers to build applications related to public charity, product logistics and electronic invoice tracking. After the beta testing phase, on April 25, BSN developers announced the network's official launch for global commercial use.
Shan Zhiguang, chairman of the BSN Development Alliance, stated in the announcement that the network currently has 128 public city nodes with eight of them spread across six continents. The Alliance predicts that BSN's public city nodes will reach at least 200 by the end of 2020.
BSN developers also noted that the technology has been designed to support popular blockchain frameworks such as Hyperledger Fabric and Baidu's XuperChain.
The creators of BSN expressed confidence that the network would attract decentralized application (DApp) developers, given what they claim are much lower — up to 20 percent — operational costs than "traditional blockchain cloud services."
Blockchain deals shift from US to China
Over the past four years, there has been a drastic shift in the share of blockchain deals moving to China, according to CB Insights' 2020 report on the global blockchain landscape. While China-based companies claimed only 2 percent of blockchain-related deals in 2015, by 2019, that number had grown to 22 percent. On the other hand, U.S.-based companies saw a 20 percent drop over the same period — from claiming 51 percent of all global blockchain deals to 31 percent.
The rise of China in terms of blockchain deals is also consistent with the findings of PwC's 2nd Global Crypto M&A and Fundraising Report, published in April 2020. PwC reported that in 2019, crypto fundraising and mergers and acquisitions (M&A) deals shifted away from the Americas towards Asia and EMEA.
Funding and investments
China has emerged as a dominant region in terms of blockchain development and deals on the backdrop of falling global blockchain investments in 2019.
Global funding of blockchain development by venture capital firms amounted to $2.79 billion in 2019, a 34.5 percent drop compared to 2018, CB Insights reports. China also suffered from the bearish investment sentiment in 2019, with its domestic blockchain investments (of all types) falling just over 40 percent — from 41.25 billion yuan (about $5.8 billion) in 2018 to 24.43 billion yuan (about $3.4 billion) in 2019 — according to a report from Rhino Data.
Evidently, institutional investors were more cautious about making blockchain investments in China, as reflected by the sharp decline in the number of blockchain financing deals, which shows a 59 percent drop in 2019.
One possible explanation for the decline in domestic blockchain investments in China is related to the fact that Chinese enterprises have continued to invest in blockchain outside of the country. Rhino Data's report shows that the number of Chinese enterprises investing in foreign blockchain projects only saw a mild decline in 2019.
Despite the recent decline in blockchain-related investments within China, market research firm IDC predicted in a November 2019 report that China's spending on blockchain technology will surpass $2 billion in 2023, with a compound annual growth rate of 65.7 percent from 2018-2023.
Gaining an edge with blockchain
During the third session of the 13th National Committee of the CPPCC, part of the annual Two Sessions meeting held at the end of last month, Charles Li, the chief executive of the Hong Kong Stock Exchange, addressed regulators about blockchain. Li stressed that China can leverage blockchain tech, artificial intelligence (AI) and big data to edge past other major economies:
"China has the opportunity to use big data to lead other economies. On the one hand, China is more digital, more Internet-based, and more capable of using new technologies such as artificial intelligence, blockchain and big data than any other country."
In his address, Li referenced an "Opinions" statement that the Central Committee of the Communist Party of China and the State Council had published in late March. Li claimed that the statement "for the first time explicitly incorporated data into production factors." The government text indeed focused on "the open sharing of government data," standardizing data management and improving data security.
Digital payments and DCEP
China's leadership in digital payments has laid a solid foundation for fostering a digital economy — in which blockchain could potentially be more incorporated. As of May 2020, China topped global transaction value in digital payments, with $1.9 trillion in transactions — nearly twice that of the U.S. with $895 billion. According to Statista, China also ranked first in user penetration in the mobile point-of-sale segment in 2019, showing that 35.2 percent of all transactions at point-of-sale are processed via smartphone applications in China.
In terms of incorporating blockchain into the digital payment sector, the world economy has kept a close eye on China's proposed central bank digital currency (CBDC), Digital Currency Electronic Payment (DCEP). DCEP was first introduced to the public in March 2018 by Zhou Xiaochuan, the former governor of the People's Bank of China, China's central bank.
DCEP is a system for distributing a digital yuan and is designed to be two-tiered, where the first tier is used by the PBoC and commercial banks and the second tier is used by commercial banks and the general public. In April 2020, the PBoC commenced its pilot trial of DCEP in Xiong'an, with U.S. fast food chains McDonald's, Subway and Starbucks named in the pilot's participant list.
It is worth noting that, according to some experts, DCEP does not necessarily use blockchain technology — or not in the way the tech is generally understood. Chongqing Technology and Business University professor, Changyong Liu, previously told OKEx Insights that "DCEP does not fit into the global blockchain craze." He further stated:
"DCEP is mainly a technical transformation, it does not change the nature of the RMB and related regulatory systems, therefore, DCEP will not bring much convenience to the current blockchain industry or cryptocurrency industry."
An in-depth analysis of DCEP by HashKey Group's chief economist noted that its ledger would be necessarily centralized, like all proposed CBDC projects, making it "a 'degraded' blockchain with only one node."
In terms of global competition, the U.S. is also evidently pursuing its own CBDC, though a digital dollar is still only in the planning and design phase. Just last week, a group led by former U.S. regulators published a white paper for the U.S.'s own CBDC proposal — a similarly two-tiered, fiat money-pegged, centralized system that would make use of some elements of blockchain technology.
Blockchain excluded from China government's annual summary
Despite the active push among Chinese government bodies — not to mention enterprises and investors — to develop and implement blockchain-related policy, the technology itself is not yet a state priority. Blockchain technology did not make it onto the agenda of this year's Work Report — the Two Sessions meeting summary that sets priorities for the coming year.
This indicates that, as an emerging technology, blockchain itself does not yet belong to the core initiatives of the Chinese government — at least not this year. Rather than as a standalone industry in and of itself, blockchain is evidently regarded by China's government as a tool or technology to improve efficiency in areas, like supply chain, which themselves may be considered a national priority.
---
OKEx Insights presents market analyses, in-depth features and curated news from crypto professionals. Follow OKEx Insights on Twitter and Telegram.