Creditcoin – Reshaping The Future Of Credit Building
For most of us, getting a loan from a bank is almost effortless. Loan applications nowadays are fairly straightforward and seamless. Yet, for the world's unbanked population, that's another story.
Essentially, the unbanked have no access to loan services from the traditional banking system, simply because they have no bank accounts or credit history. So, non-banks loans become their last resort when they are in need of small loans. However, traditional banks do not recognize credit records with non-banks. Thus the unbanked can never build authentic credits.
To bridge the gap between the unbanked in the emerging market and credit building, Creditcoin offers a perfect solution.
What is Creditcoin?
Creditcoin is a borderless credit investment network powered by blockchain technology. At its core, the inter-blockchain network provides access to crypto loans for the unbanked and helps build their credit history by storing their credit and transaction records on a public ledger.
The Creditcoin network offers an open and transparent credit investment market, which enables fundraisers and lenders to match their needs directly and securely. Creditcoin (CTC) is its native currency for paying the transaction fees incurred.

How Does It Work?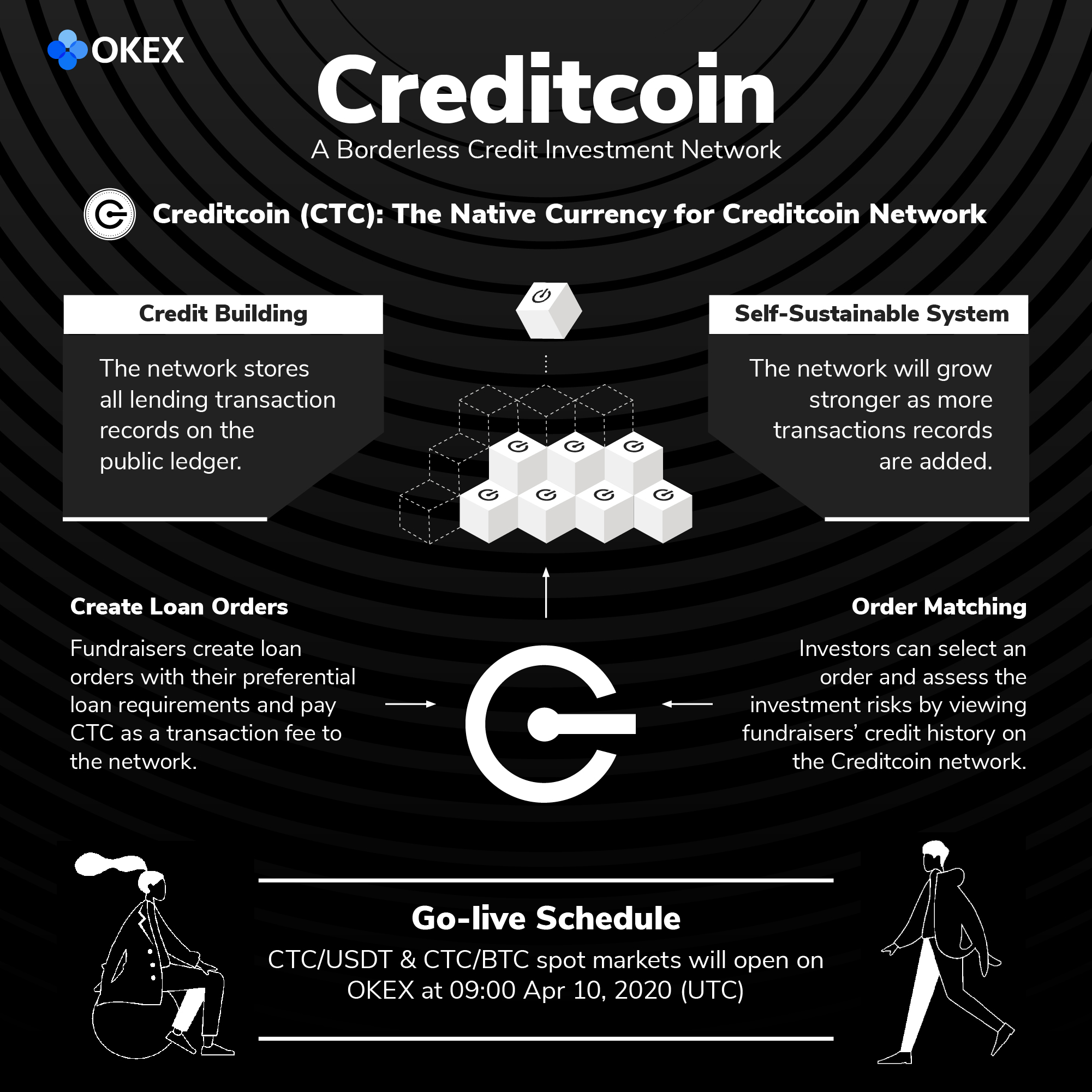 To start with, fundraisers create loan orders with their preferential loan amount, collateral asset, interest rate, and loan duration on the Creditcoin network, and pay CTC as a transaction fee to the Creditcoin network.
During the order matching process, lenders can assess the risks involved by viewing the fundraisers' credit history recorded on the Creditcoin network. Once they both agree to make a deal, the lender will then transfer the loan to the fundraiser. The loan cycle will close once the investor receives the repayment from the fundraiser. All transaction records involved will be stored permanently on the distributed ledger, thus building credit for the borrowers.
Currently, the Creditcoin network supports Bitcoin, Ethereum, and ERC-20 token loans.
A Self-Sustainable Lending System
With the booming demand for small loans and credit building in the emerging markets, Creditcoin is expected to serve at least 1M users with around 150K loans per month. Therefore, the need to buy and hold Creditcoin will grow, and the value of the Credit network will increase as more credit history is added to the network. That is why the whole Creditcoin lending system is self-sustainable.
High Level Of Security Guaranteed
Creditcoin guarantees a high level of security since the system is entirely decentralized and public. Users can share credit history to any potential lenders while keeping their personal information private, thus avoiding any attacks from hackers. And investors can make risk assessments and decisions based on the credit history the network provided.
Backed By Leading Fintech Innovators & Investors
Creditcoin is a ten-million-dollar blockchain-based protocol cofounded and built by Gluwa and Aella Credit, two leading fintech innovators based in San Francisco. Gluwa is a borderless finance platform and Aella Credit is a mobile lending company. Both of them are backed by a number of notable investors from the valley, including Y Combinator, 500 Startups, Steve Chen (co-founder of YouTube), Brian Armstrong (co-founder and CEO of Coinbase), Michael Siebel (CEO of Y Combinator), and Tom James (co-founder of Intec).
Get Your Creditcoin at OKEx
We are pleased to announce the listing of Creditcoin (CTC) on OKEx. Please take note of the following go-live schedule:
1. CTC Deposit – 09:00 Apr 9, 2020 (UTC)
2. CTC Spot Trading – (CTC/USDT, CTC/BTC markets) – 09:00 Apr 10, 2020 (UTC)
3. CTC Withdrawal – 09:00 Apr 13, 2020 (UTC)
---
Disclaimer: This material should not be taken as the basis for making investment decisions, nor be construed as a recommendation to engage in investment transactions. Trading digital assets involves significant risk and can result in the loss of your invested capital. You should ensure that you fully understand the risk involved and take into consideration your level of experience, investment objectives and seek independent financial advice if necessary.
---
Follow OKEx on:
Twitter: https://twitter.com/OKEx
Facebook: https://www.facebook.com/okexofficial/
LinkedIn: https://www.linkedin.com/company/okex/
Telegram: https://t.me/okexofficial_en
Reddit: https://www.reddit.com/r/OKEx/
Instagram: https://www.instagram.com/okex_exchange