DeFi Balancer: Understanding Liquidity Mining — #OKExDEFI Fireside Chat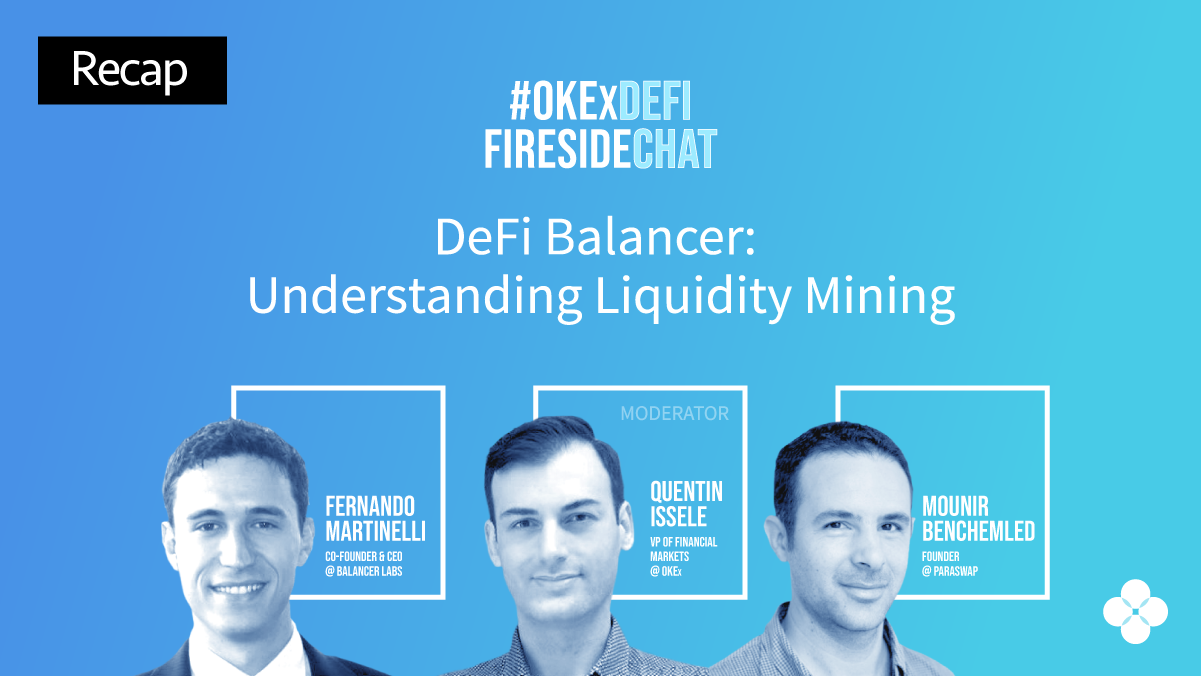 On Aug. 3, OKEx hosted a DeFi fireside chat called "DeFi Balancer: Understanding Liquidity Mining."
OKEx is a leading centralized exchange with different business lines and a successful derivatives-trading business across perpetual swaps, futures and options. We closely follow the DeFi space, and we have listed a few DeFi projects recently — including Compound, Synthetix, DMG, Celo and Balancer. We also continually innovate our own OKChain.
In this video, we discuss the world of liquidity mining with OKEx's vice president of financial markets, Quentin Issele, who moderated a discussion with two distinguished guests:
Fernando Martinelli, CEO of Balancer
Mounir Benchemled, CEO of Paraswap
Watch the fireside chat here and read a brief excerpt of it below.
---
Quentin: Fernando, can you describe some key innovations that you brought through Balancer?
Fernando: Balancer is a protocol for programmable liquidity. I think that the main innovation we bring is its flexibility with which you can create liquidity pools.
If you think of Uniswap, you know that it's focusing on the exchange side of things. People are seeing Uniswap as an exchange. Balancer allows you to create liquidity pools like Uniswap but without the restriction of only having two tokens. Balancer pools can have two to eight tokens. That opens up the possibility for anyone to use Balancer as an index fund protocol — so you can put your liquidity in a Balancer pool and you know that, every time you look at that pool, you're going to see the same percentage of value in the pool as the weights that you chose.
If you start with a pool that's 80-20 MKRE, in a month — even if the price between those two tokens varies — you're still going to have 80% MKR and 20% in E. If the MKR goes up, the pool will automatically sell, slowly and continuously, MKR for E — so it's a great tool for projects to hedge or for projects to do a token sale. 
To summarize, the main innovation of Balancer is that it brings flexibility and programmability to liquidy pools.
Quentin: That's very interesting. I was wondering if you can share some metrics — especially focusing on the liquidity providers. How many unique liquidity providers are there? I'm interested to know how much revenue, on average, they have been making since your launch.
Fernando: I don't have the numbers, off the top of my mind — but I can tell you that, last week, we distributed, I think, 5,500 BAL to 5,500 addresses. Within one week, 5,500 liquidity providers were active on Balancer… which is mind-blowing to me. We have almost 10,000 BAL token holders, so the main objective of distributing ownership of Balancer through liquidity mining is exactly to get to a decentralized state and have a healthy distribution for governance to work. 
We know that it's not going to be overnight. It's not going to be in one year. I can tell you that the volume has been growing very much. I think we are the third protocol that has the most volume, behind Uniswap and Curve, and I think we already got almost $500 million in accumulated trading volume. Half a billion dollars have already been traded on Balancer — which is amazing, given that we just launched the end of March.
---
Disclaimer: This material should not be taken as the basis for making investment decisions, nor be construed as a recommendation to engage in investment transactions. Trading digital assets involves significant risk and can result in the loss of your invested capital. You should ensure that you fully understand the risk involved and take into consideration your level of experience, investment objectives and seek independent financial advice if necessary.
This recap has been edited for clarity.
---
Follow OKEx
Twitter: https://twitter.com/OKEx
Facebook: https://www.facebook.com/okexofficial/
LinkedIn: https://www.linkedin.com/company/okex/
Telegram: https://t.me/OKExOfficial_English
Reddit: https://www.reddit.com/r/OKEx/
Instagram: https://www.instagram.com/okex_exchange