How to Participate in OKEx Jumpstart 11th Project DEAPCOIN (DEP)
STEP ONE: REGISTER ON OKEx AND PASS KYC 2 LEVEL VERIFICATION
On the OKEx homepage, click "Sign Up" on the top-right corner to register on OKEx. You can register through E-mail or Phone, then a 6-digit code will be sent systematically, fill in the right number, then you will complete the registration.
To participate in OKEx Jumpstart, you must pass KYC 2 Level Verification in advance. Log in to your account, and click "KYC Verification" under your profile icon. There are three 3 verification levels in total, each contains different information requirements and 24h withdrawal limits. Enter your individual information to pass the KYC verification. Please noticed that some areas are not qualified to participate in the Jumpstart, which can be found in the announcement.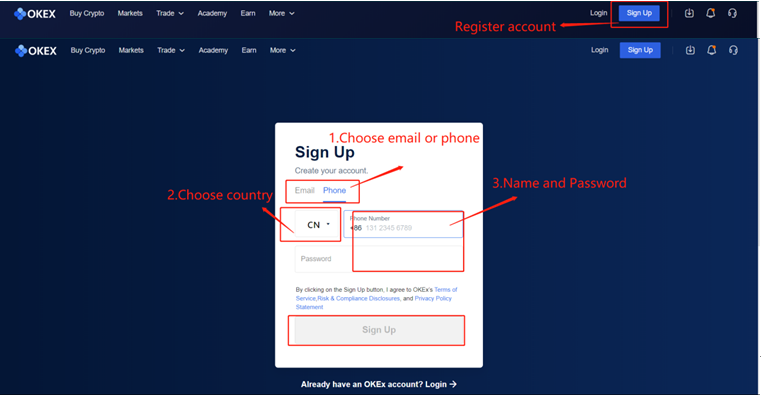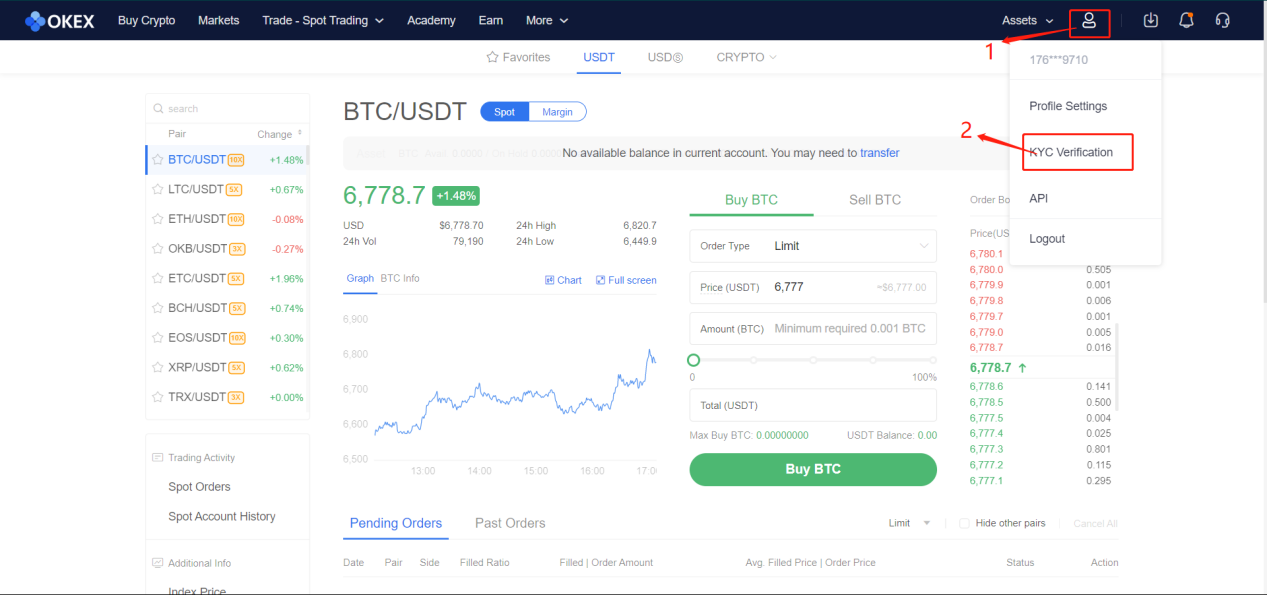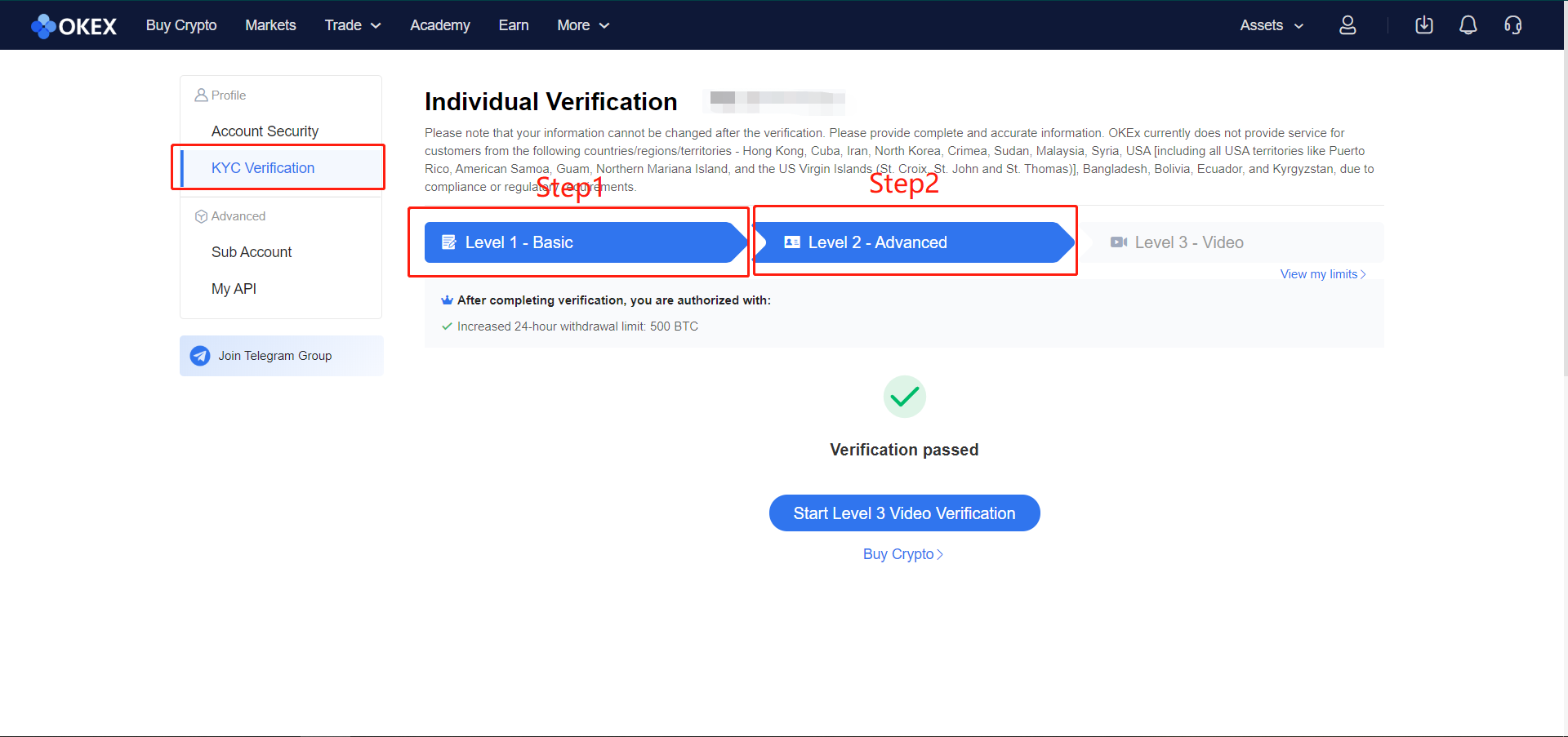 STEP TWO: BUY CRYPTO AND TRADE
The new rules of OKEx Jumpstart include OKBelievers Exclusive Allotment Session and OKTraders Exclusive Allotment Session. Users are required either to hold at least 100 OKEx Platform crypto - OKB to be the OKBelievers, or trade no less than 5 BTC equivalent amount to be the OKTraders.
To buy OKB, you need to click "Buy Crypto" on the top menu bar, and then choose OKB, the currency to buy and payment method. Fill in the currency amount in the box, and the system will calculate how much OKB you will obtain. The minimum threshold is 100 OKB, and now OKB price is $4.42, then we can fill in "442" and Click "Buy Now" to jump into the third-party payment page. After the payment is settled, 100 OKB will be transferred to your OKEx wallet. You can check it in "Asset".
You can also trade other cryptos to be the OKTrader. On the top menu bar, click "Trade" and then choose "Spot Trading", you can choose the trading pairs on the left hand to buy the crypto the need. We will calculate your accumulated trading volume equivalent BTC amount since establishment of OKEx, including both spot trading and margin trading.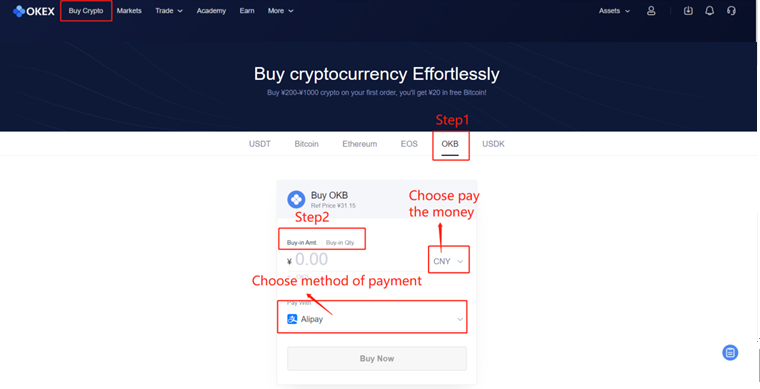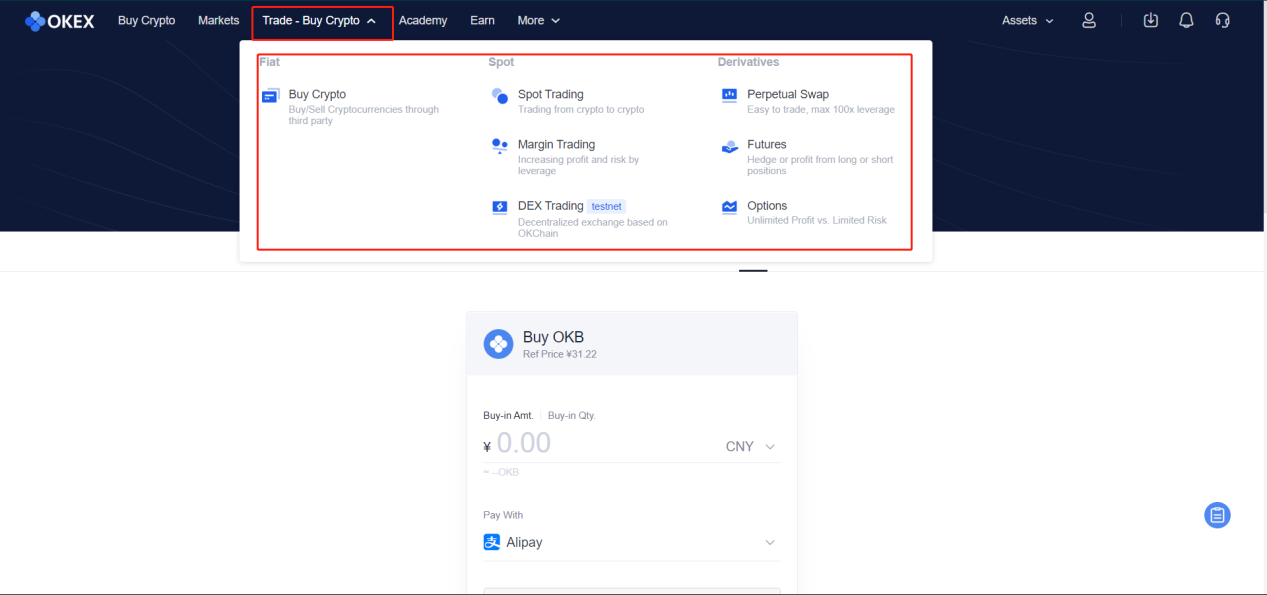 STEP THREE: GET ALLOTMENT COEFFICIENT
To get the highest allotment coefficient, you need to hold consistently at least 2500 OKB 5 days before the token sale's last random snapshot time, or your accumulated spot trading amount since OKEx establishment is higher than 100 calculated in BTC.
In a nutshell, the higher amount of OKB you hold, the higher allotment coefficient guaranteed. If you do not hold OKB 5 days in advance, you can buy a larger amount of OKB before the token sale's last random snapshot time to reach the participation threshold. Please noticed that we will randomly snapshot users' OKB holding daily, including Funding Account, Spot Account, Fiat Account, and Margin Account.
As for OKTraders, Please noticed that the historic accumulated spot trading volume includes spot trading volume and margin trading volume.
The allotment formula, individual allotment coefficient and OKB snapshot records can be viewed in the OKEx Jumptusers' homepage and the announcement.
STEP FOUR: TOKEN SALE SESSION ON 8TH APRIL
OKEx Jumpstart token sale will be launched on 8th April. The OKBelievers Exclusive Allotment Session will open at 04:00 (UTC), and the OKTraders Privilege Allotment Session will open at 05:00 (UTC). Each session of token sale will last for 30 minutes. There is no subscription limit before it ends.
Taking the OKTraders Privilege Allotment Session as an example.
On OKEx Jumpstart homepage, click "I have read" after reading the notice.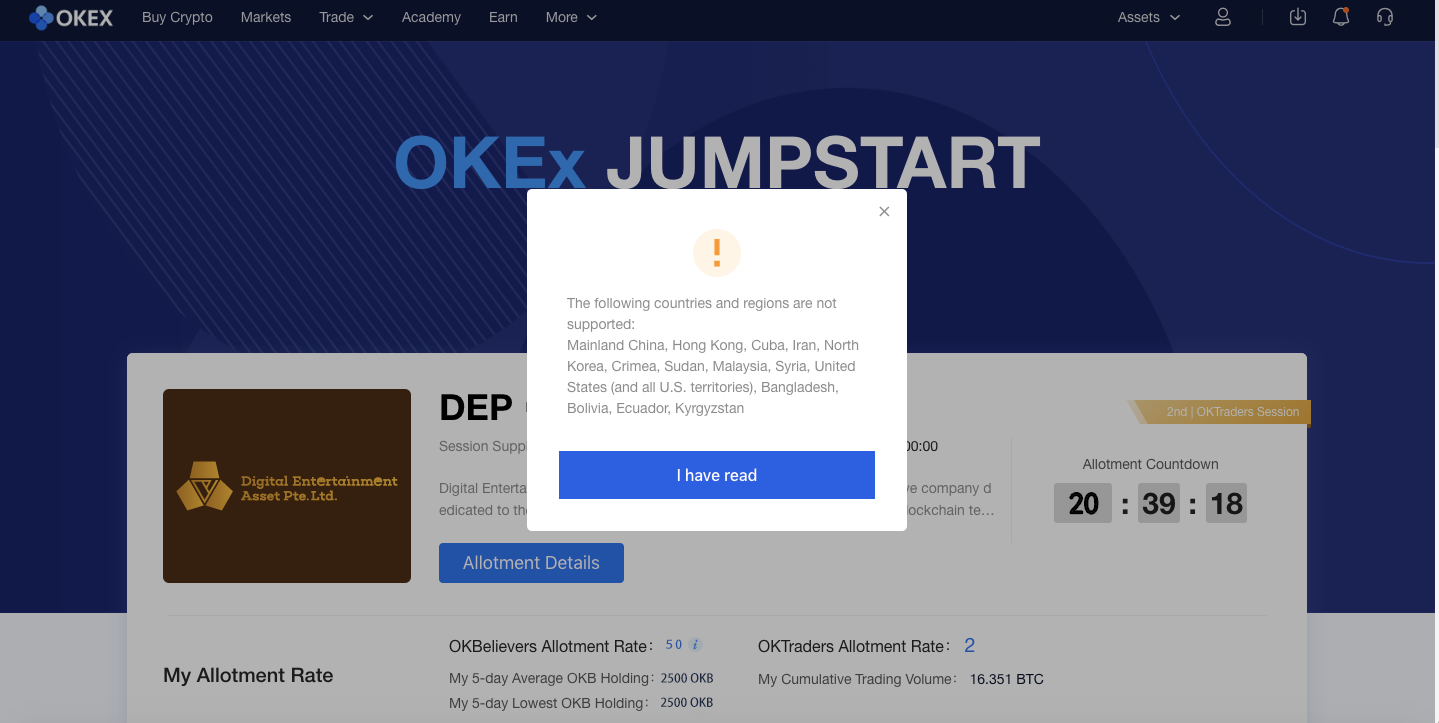 Now you can check the token sale rules, allotment details, your allotment rate and the allotment countdown.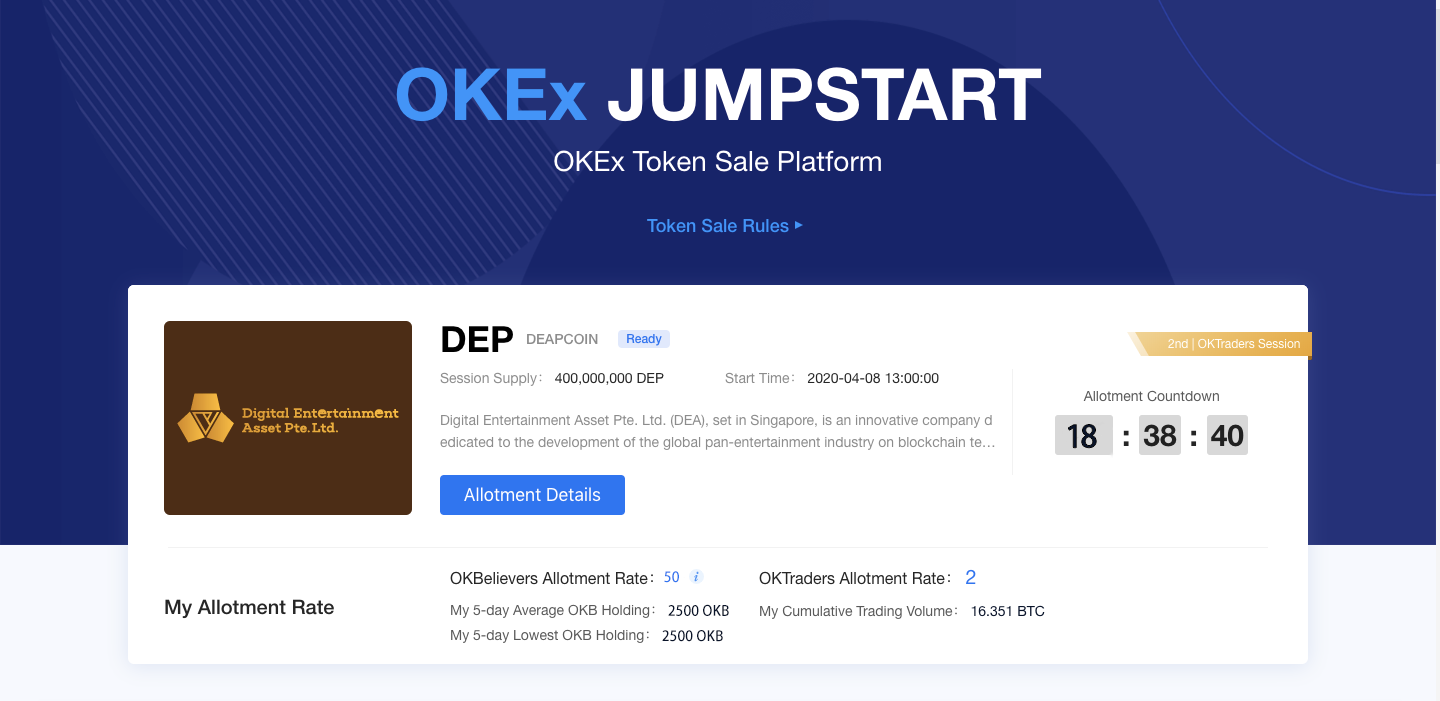 Click "Allotment Details" and enter into the DEP Sale page.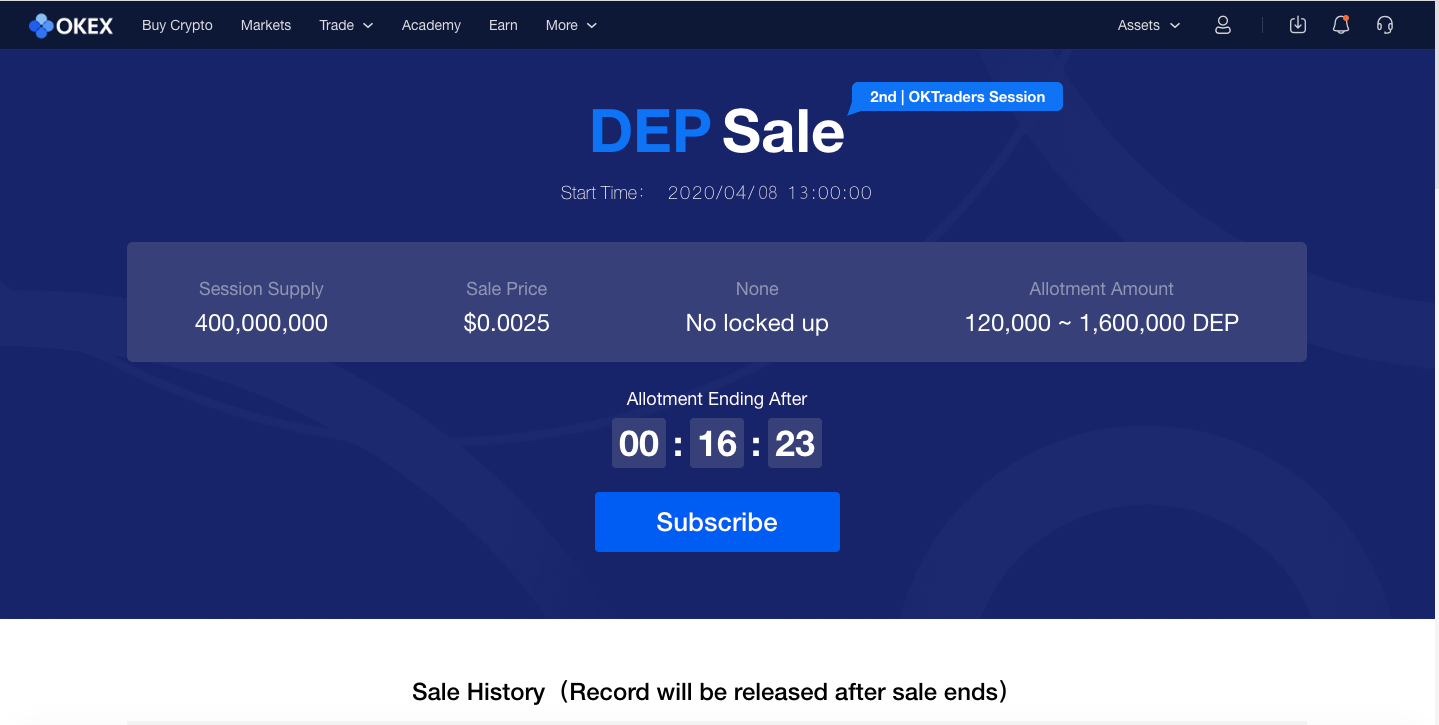 Fill in the DEP allotment amount, and the system will calculate how much OKB it will cost. You can see your total OKB balance here.
Click "Subscribe" , then you will be in a subscription queuing, and your allotment result will be announced 30 minutes after the session ends.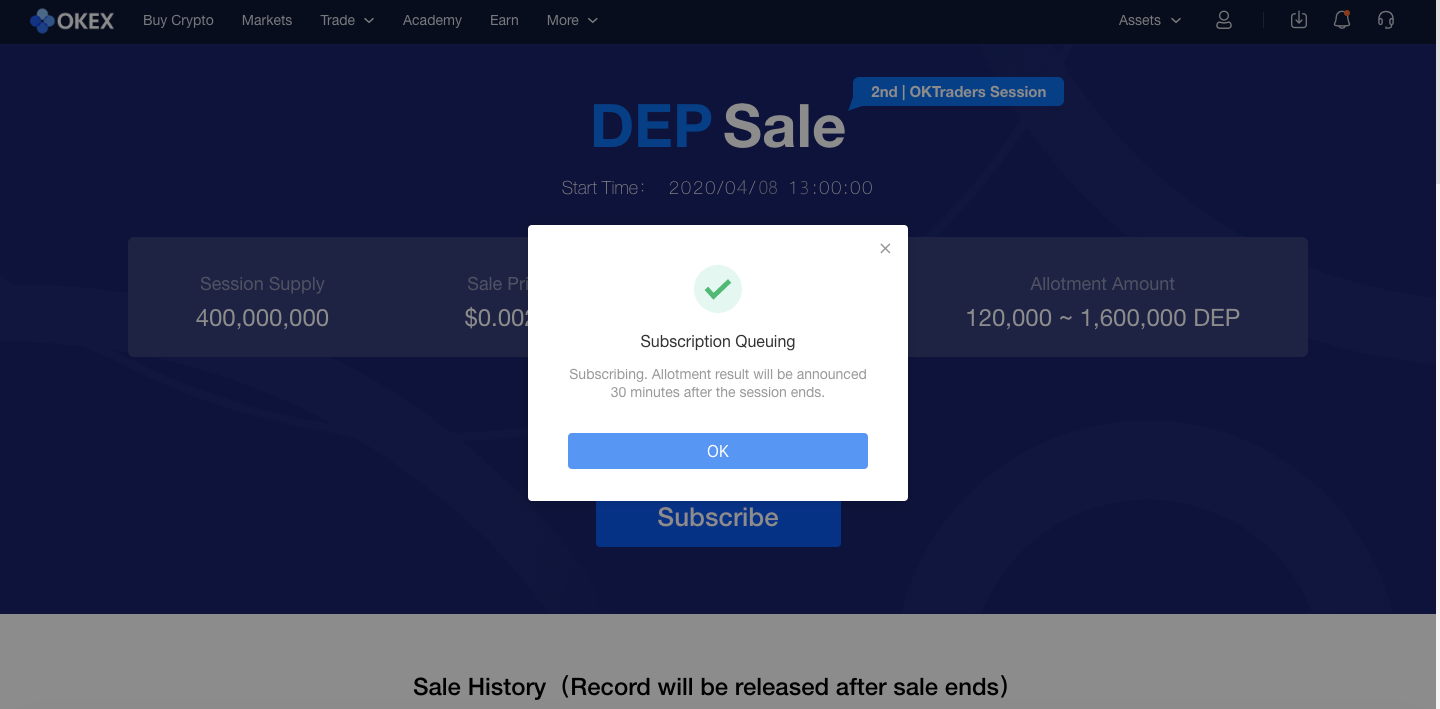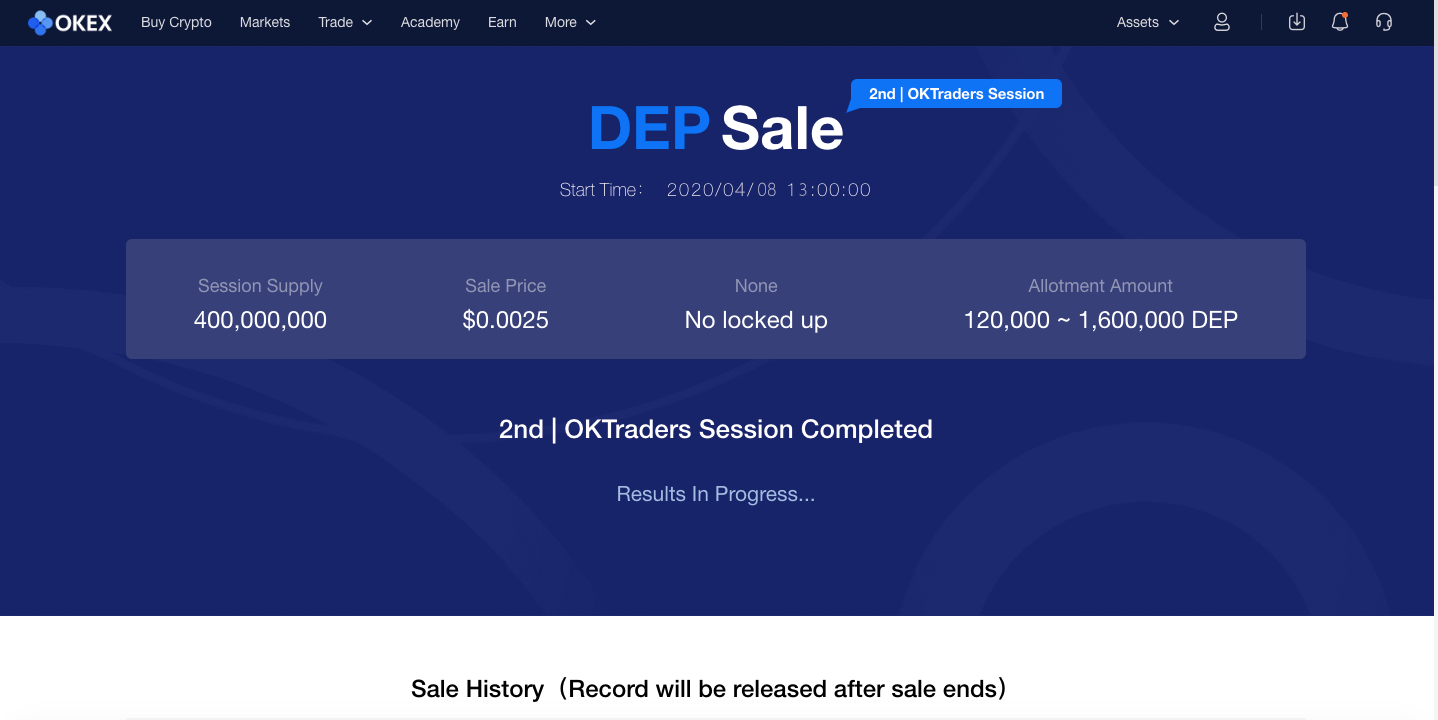 Details such as individual subscription limits and exchange rate of each token sale will be announced in the OKEx Jumpstart x DEAPCOIN (DEP) Token Sale Details.
Once the allotment period ends, tokens will be credited to users' OKEx Funding Account and the corresponding amount of OKB will be deducted. Any remaining amount of OKB on hold for subscription will be released. The second allotment session will begin after we finish calculating the results. You can use OKB released from the first session in the second session.
Now you have successfully participated in OKEx Jumpstart. Then you can wait for the crypto listing for further trading. The DEP/USDT trading pair will be open at 7:00 (UTC) and DEP/USDK at 9:00 (UCT), the same day as Jumpstart token sale.
If you have any question regarding the rules or transactions, you can contact our online customer support or submit a ticket.