Jay Hao on PAXE TV: OKEx Expansion in Korea 2020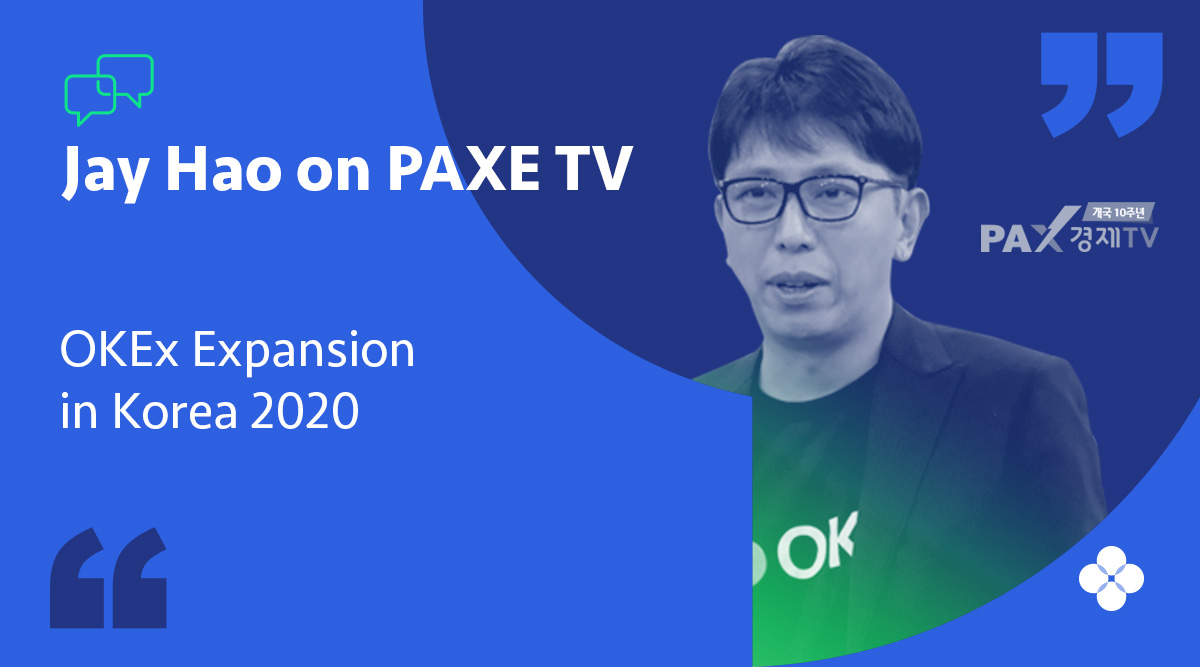 On April 25, our CEO Jay Hao was interviewed by Pax Economic TV (PAXE TV), a well-known Korean broadcasting channel that focuses on cryptocurrencies and blockchain trends, to discuss market insights and OKEx's plan in expanding to Korea in 2020. Throughout the interview, Jay also talked about OKEx's new partnership with MeconCash, a high-quality blockchain project that help us expand our fiat gateway in Korea.
Are you excited about our new directions? What does Jay think about the blockchain ecosystem in 2020? Check out the interview below and the Q&As we have transcribed for you, with all the questions Jay answered.
For the complete interview footage, please visit: http://www.paxetv.com/tv/view.html?idxno=24148
1. Please introduce yourself for the viewers in Korea
Sure. A-ni-ha-sya-you, I'm Jay Hao, CEO of OKEx. Thanks for having me here.
2. Please introduce OKEx for the viewers in Korea.
OKEx is a global digital asset exchange, offering trading services such as spot trading, derivatives like futures, perpetual swap, options trading, C2C markets, and so on.
As a sound blockchain ecosystem, OKEx also have its own mining pool, wallet, and public chain.
Feel free to follow me (@Jayhao8) or OKEx (@OKEx) on Twitter to learn more ;)
3. Do you think that there will be a major change in the blockchain ecosystem in 2020? If so, what would it be?
No doubt.
When it comes to 2020, the world economy has been greatly affected by the coronavirus. Stock market, labour market... really tough. In this hard time, "passive income" will be the key in our blockchain ecosystem during the whole year.
DeFi has been developing very rapidly, and we believe it'll become a crucial element to the traditional financial system. We've launched various products to let users earn passive money easily by Defi lending, staking and deposit.
4. How do you plan to expand your business in Korea?
Well, 200 billion US dollars - this's the amount that the market cap of crypto market has reached last year. Obviously, this market is still growing vastly and rapidly. The data from OKEx indicates Korea is one of very active countries in our industry.
We really appreciate the enthusiasm of users in Korea. And here is always one of the top markets we value the most. No matter any of the promising projects or communities, they are always the motivator making us able to offer a more outstanding level of services to everybody. Also, our partner OKEx Korea will strive their best to provide Korean users the easiest access to cryptocurrencies.
5. What brings OKEx to collaborate with MeconCash? What do you think of the partnership?
The goal of OKEx is to stimulate the growth of the blockchain industry, as well as blockchain-empowered economy. It's our pleasure to collaborate with high-quality blockchain projects like MeconCash. This cooperation between OKB and Meconcash is going to be a win-win.
We adhere to a high standard of project review process from time to time. The procedures are set up to protect the interests of our traders, also guaranteeing our cooperated projects are of high quality. And MeconCash helps us to expand our fiat gateway in Korea.
6. What are your thoughts on MeconCash?
We very much appreciate what MeconCash has contributed to the industry, particularly acting a fiat gateway in Korea with ATM machines. Thanks to that, people in Korea can get access to cryptocurrency more easily with mass adoption.
We are sharing the same goal, and building for the industry together.
7. What is OKB? What's the future plan of it?
OKB is a utility token issued by OK Blockchain Foundation and OKEx has adopted it as an essential part of the OKChain ecosystem. As of today, OKB has developed up to 13 platform-based application scenarios along with 35 external application use cases, like purchasing products or services with the tokens.
Being listed on 50 spot exchanges, 9 fiat-to-crypto exchanges, covering 141 countries and regions around the world... it shows how OKB is highly accessible.
To better maintain the token system, we also have a buyback plan of OKB - 30% of transaction fee income from OKEx spot market would be used to buy back OKB regularly.
OKB, is our future.
8. Tell us more about how OKEx will continue to contribute to the blockchain industry.
We are now offering our users a very comprehensive product portfolio - C2C, spot, margin, and derivatives such as futures, options and perpetual swap. Right now, both mining pool and public chain are what we are actively developing.
For public chain, we've launched our own - OKChain, and its first DApp - OKEx DEX. OKChain is open to all blockchain communities and supports various kinds of dapps. Users can issue their own tokens, create trading pairs, and trade freely via OKChain. In the future, I hope more decentralized applications will go live on it to stimulate the rapid development of the industry.
We hope to stay mutually beneficial to traditional financial market, especially there're more than billions of people not capable of getting access to traditional financial services. Therefore, we will help them get rid of financial inclusion and then enjoy their passive income. EARN – our newly launched feature is a one-stop shop that allows users to access to all financial products of OKEx, including staking and savings, where users could earn interest income.
9. If you have anything to say to the Korean viewers for the last time, please tell them.
Blockchain industry has made great progress last year, yet it's still young. I'd say blockchain technology still has a long way to go with huge growth potential.
We are happy to see more and more high-quality blockchain projects like Meconcash which were incubated in Korea and contributed to the industry globally. As a player, we're very willing to go along with both Korean projects and users, to push the development of blockchain industry towards the next level.
---
Disclaimer: This material should not be taken as the basis for making investment decisions, nor be construed as a recommendation to engage in investment transactions. Trading digital assets involves significant risk and can result in the loss of your invested capital. You should ensure that you fully understand the risk involved and take into consideration your level of experience, investment objectives and seek independent financial advice if necessary.
---
Follow OKEx on:
Twitter: https://twitter.com/OKEx
Facebook: https://www.facebook.com/okexofficial/
LinkedIn: https://www.linkedin.com/company/okex/
Telegram: https://t.me/OKExOfficial_English
Reddit: https://www.reddit.com/r/OKEx/
Instagram: https://www.instagram.com/okex_exchange