LINK Leads Week of Growth as DeFi Market Cap Exceeds $10 Billion — Market Watch Weekly
The past week saw Bitcoin (BTC) take a $1,000 swing, trading as low as $10,929 on Monday before starting to rebound and reaching the weekly high of $11,918 on Friday, as per the OKEx BTC Index price. The largest cryptocurrency by market capitalization closed the week at $11,581, up 5.42%. 
As seen in the chart below, other large-cap altcoins were average performers, with Bitcoin Cash (BCH) adding 5.17%, and Ether (ETH) up 3.51%.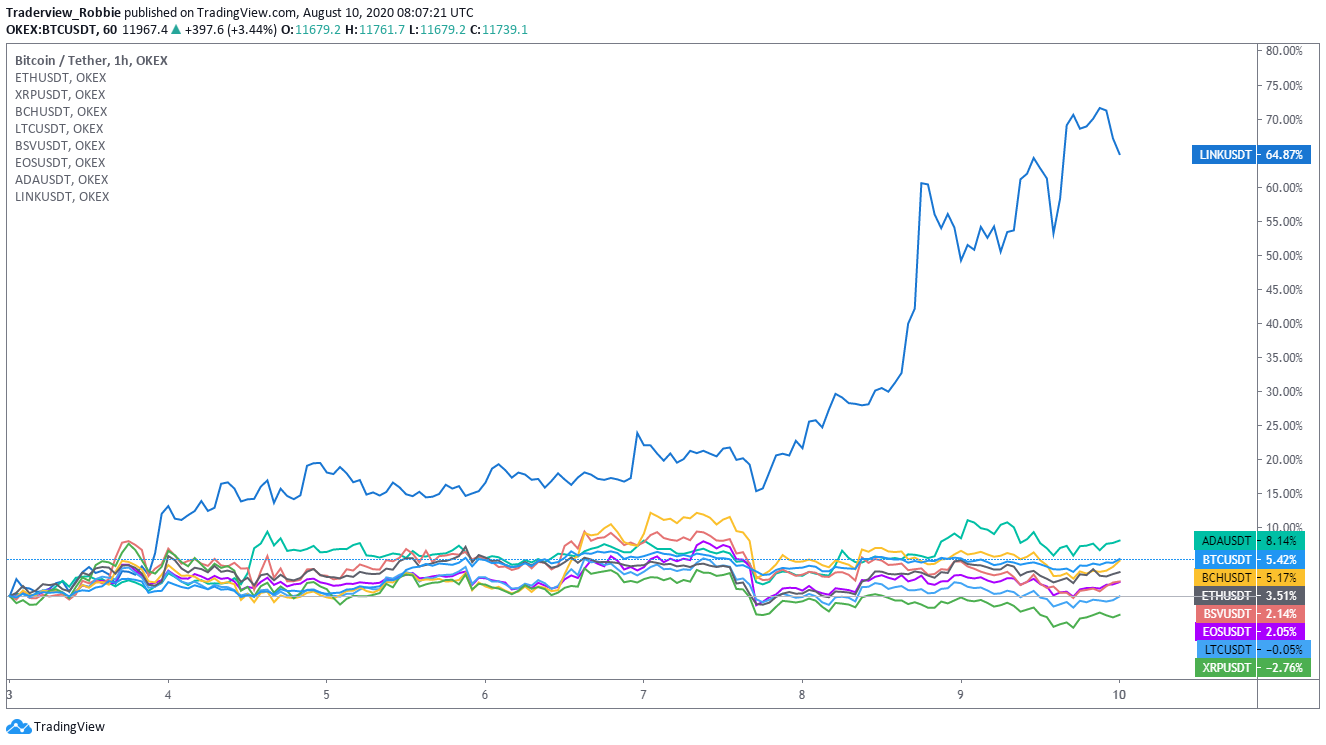 While Cardano's Ada (ADA) outperformed Bitcoin to record a weekly gain of 8.14%, last week's brightest performer was undoubtedly Chainlink (LINK), which surged 64.87% due to a massive short squeeze in the derivatives market.
LINK had risen as high as $14.46 over the weekend, and short-seller Zeus Capital's $22 million USDC collateral on Aave was destroyed. The institution has issued several reports in the past calling LINK a scam.
According to DeBank data, the current total market capitalization of decentralized finance projects exceeds $10 billion, with LINK accounting for more than half of that. LINK has now become the sixth-largest cryptocurrency in terms of total market capitalization as per CoinGecko's data.
Other DeFi projects also reaped big gains in the past week, with Balancer (BAL) surging more than 100% and Bancor (BNT) up 35%.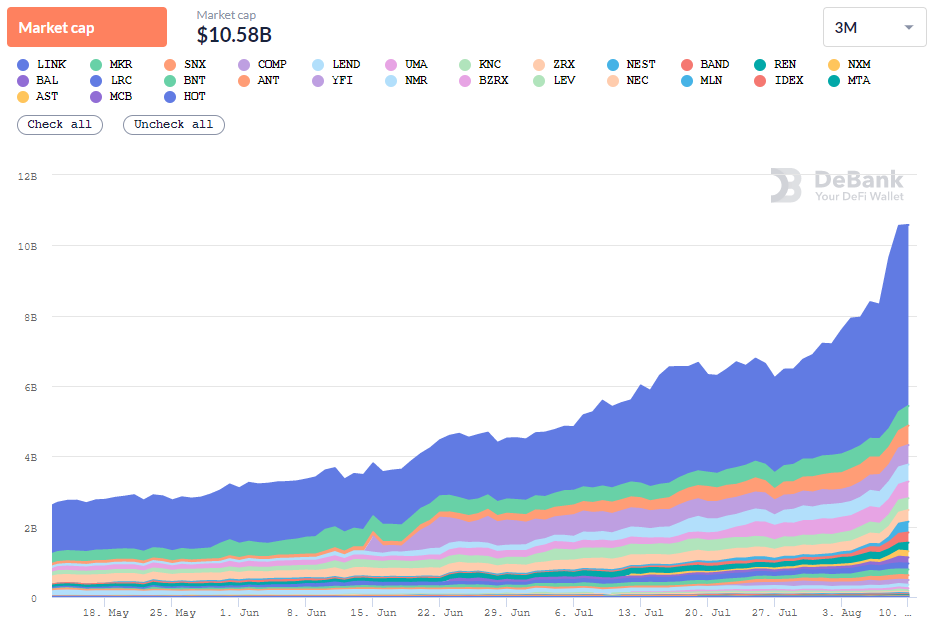 Technical analysis
BTC just had its highest weekly open since January 2018. The bullish momentum is still not exhausted, and we did not see much selling pressure over the weekend.
While the $11,900 to $12,000 area forms a strong short-term resistance, the MACD indicator is forming a bullish cross near the zero axis, indicating that the price is likely to continue rising.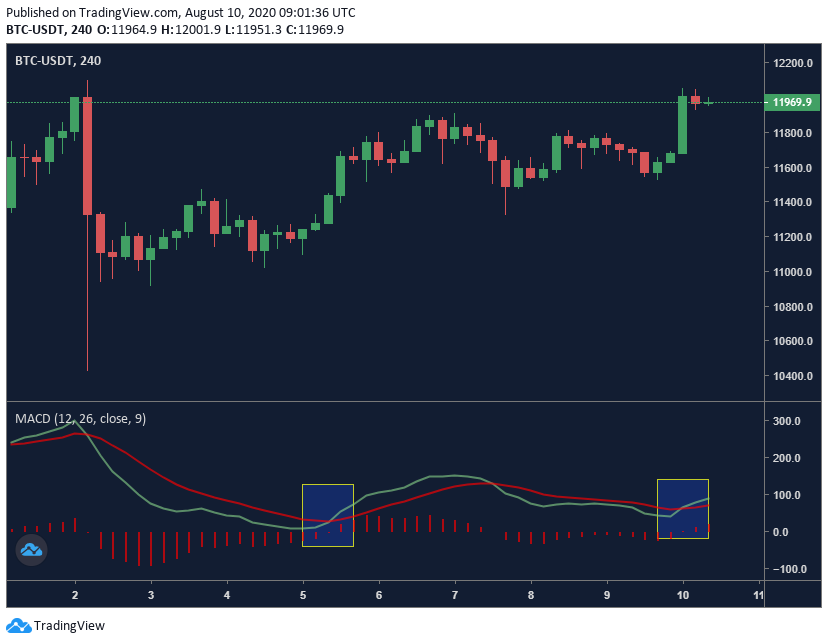 LINK's bullish run has been supported by the 30-day moving average, and there are no signs of bearish divergence at the daily level, yet. The short-term threshold is located near $12.30, and as long as this level holds, LINK remains in its super bullish pattern.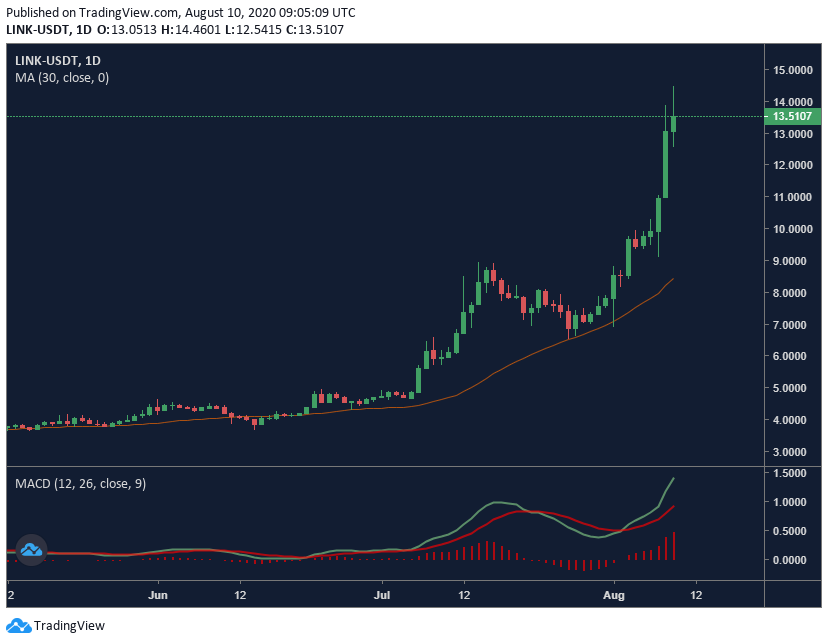 Looking ahead this week
Wall Street performed strongly last week. The Dow Jones rose 3.8% — its biggest weekly gain since June — and the S&P 500 index rose 2.5% along with the Nasdaq Composite.
In the United States, Republicans and Democrats have failed to reach an agreement on a new round of economic stimulus, which remains a major factor capable of influencing the market in the short term.
Additionally, as U.S.–China relations continue to deteriorate. Chinese stocks face more policy risks than ever before, and any unexpected events will induce short-term volatility in the market.
In crypto, Band Protocol (BAND), which has quintupled since the beginning of this month, will go live on Coinbase Pro today. TRON's (TRX) decentralized finance ecosystem, JUSTswap, will launch on Aug. 17 and Cardano will distribute its first staking rewards on Aug. 18.
---
Disclaimer: This material should not be taken as the basis for making investment decisions, nor be construed as a recommendation to engage in investment transactions. Trading digital assets involve significant risk and can result in the loss of your invested capital. You should ensure that you fully understand the risk involved and take into consideration your level of experience, investment objectives and seek independent financial advice if necessary.
---
OKEx Insights presents market analyses, in-depth features, original research & curated news from crypto professionals.