Market Panic Subsides as Bitcoin Tests Support: Crypto Market Daily
As of press time (11:00 UTC), Bitcoin (BTC) is trading near $9,200 and is down 1.7 percent over the last 24 hours, per OKEx's BTC Index Price.
Currently, the total cryptocurrency market capitalization decreased by 1.2 percent. Bitcoin dominance is sitting at 65.9 percent and dropped another 0.4 percent for the second day in a row, as per data sourced from CoinGecko.
Large-cap cryptocurrencies have performed better than Bitcoin. Litecoin (LTC) and Ethereum Classic (ETC) received positive returns during the last 24 hours, with gains of 0.21 percent and 0.5 percent, respectively.
According to CoinGecko's data, Tether (USDT) once again became the third-largest cryptocurrency as a result of the decline in the crypto market in recent days. USDT is worth $8.992 billion — more than Ripple's XRP, which is sitting at $8.812 billion, as of press time.
Bitcoin is currently leading the list with a market value of $168.466 billion, followed by Ethereum with a market value of $22.541 billion.
Top Gainers and Losers
OMG/USDT +44.17%
NAS/USDT +19.79%
ITC/USDT +16,58%
CHAT/USDT -11.18%
CVT/USDT -10.98%
YOU/USDT -9.25%
Under OKEx Coin Info, OmiseGo (OMG) is the top gainer over the last 24 hours with a 44.175 percent return. OMG has realized nearly 300 percent gain after launching on Coinbase Pro on May 14. Other top gainers are Nebulas (NAS) and IoT Chain (ITC).
ChatCoin (CHAT) is the biggest loser over the last 24 hours — having lost 11.18 percent of its value.
Market panic is diminishing
The Put/Call Ratio dropped to below 1.0 today, currently running at 0.76. This indicates that market participants have passed the recent phase of panic following the rare movement of bitcoins mined in early 2009.
The ratio had climbed over 1.0 on May 19. Then the panic pushed the ratio to as high as 1.27 on May 20, which indicates that traders were buying more puts than calls to hedge.
Bitcoin Technical Analysis
As we noted in yesterday's Crypto Market Daily, the price of Bitcoin may have a great chance to test $8,800. And in the past 24 hours, BTC has hit a low of $8805, as per OKEx BTC Quarterly Futures (BTCUSD20200626) price.
In the short-term, the $9,300 support has now become a strong resistance — and BTC will need to breach it in order to have another shot at recovery.
Important mid-term support is located around $8,550. As long as this support holds, we cannot become blindly bearish.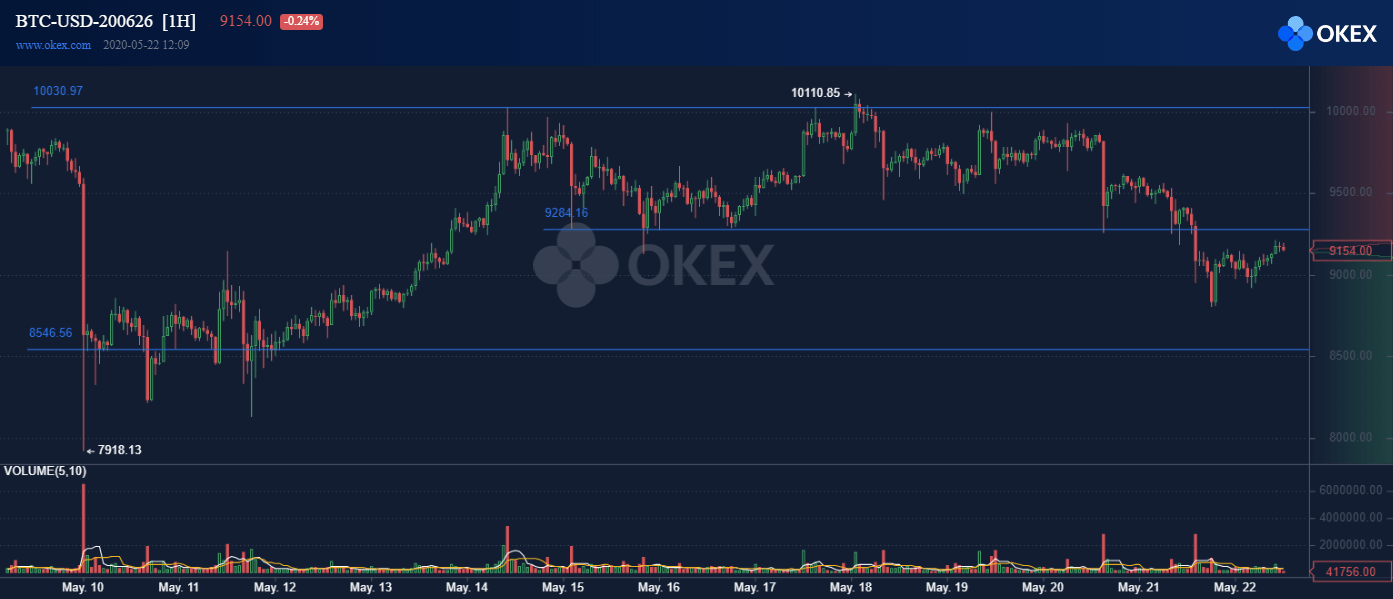 Ethereum Technical Analysis
Ethereum (ETH) has shown weakness after dropping below $205. The price rebounded at the previous low of $190, per OKEx Ethereum Quarterly Futures (ETHUSD0626).
In the short-term, we should pay attention to the resistance near $202. If the ETH price cannot break this level with a good volume, the bearish pattern will continue. The support level is still around $190.
---
Disclaimer: This material should not be taken as the basis for making investment decisions, nor be construed as a recommendation to engage in investment transactions. Trading digital assets involve significant risk and can result in the loss of your invested capital. You should ensure that you fully understand the risk involved and take into consideration your level of experience, investment objectives and seek independent financial advice if necessary
---
OKEx Insights presents market analyses, in-depth features and curated news from crypto professionals. Follow OKEx Insights on Twitter and Telegram.