OKB highest gain last month was 13% as users shared a 100K token prize pool
OKB Global Ecosystem Monthly Report — October 2020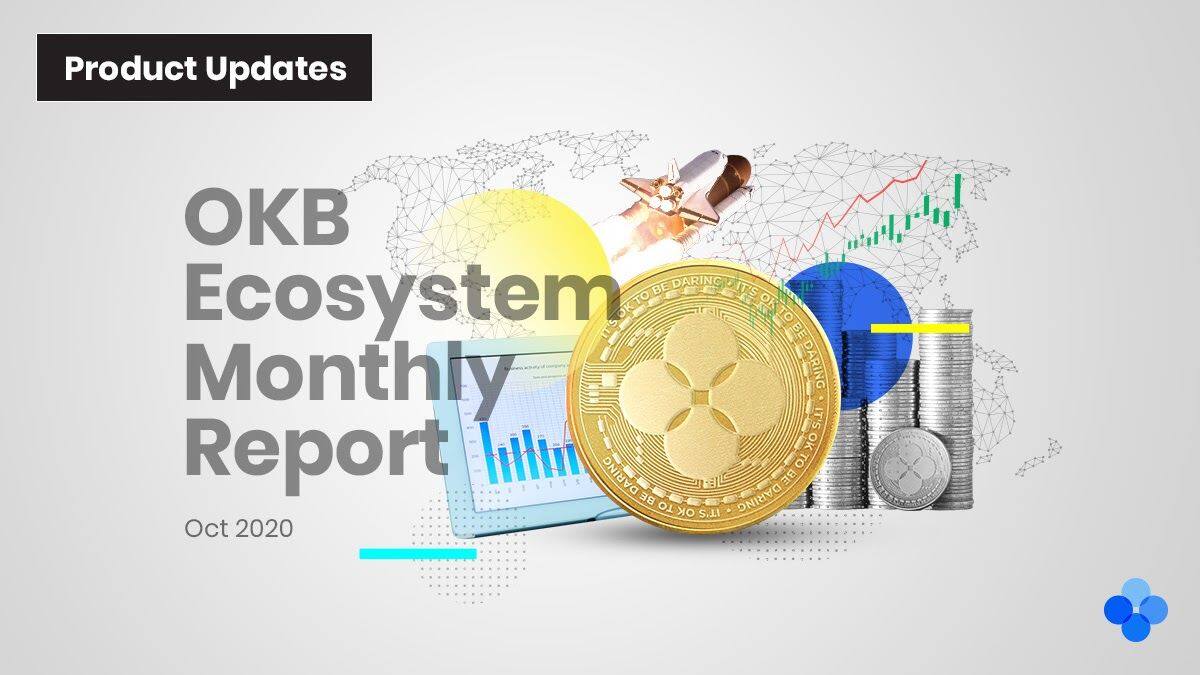 OKB is a global utility token issued by the OK Blockchain Foundation and is a fundamental part of the OKEx trading platform's infrastructure.
---
During the month of October, the OKB ecosystem continued to grow and launched two reward campaigns for global users. Additionally, OKEx has successfully upgraded the OKExChain testnet to v0.12.3.
The following report illustrates the progress and achievements of the OKB ecosystem over the course of October 2020.
What has OKB been up to in October?
OKB's price hit a monthly high of 6.366 USDT, a low of 4.12 USDT and closed October at 4.47 USDT. 
The total OKB trading volume in October reached USDT 2.48 billion.
The 50,000 OKB DeFi mining reward has been distributed.
The 50,000 OKB mid-autumn festival lottery reward has been distributed.
OKB's highest monthly gain was 13%
OKB's average market capitalization in October was $1.47 billion.
In October, OKB's price started at 6.14 USDT and closed at 4.47 USDT. The highest price increase of OKB was 13.03%, which took place from Oct. 18 to Oct. 19.
OKExChain completed liquidity-farming module development
OKExChain has completed the development of the liquidity-farming module, which is currently in the testing stage. Additionally, the testing of the OKExChain SWAP module has been completed. The development of the EVM smart contract feature, meanwhile, is 30% complete.
For the latest OKExChain development news, check out the OKExChain monthly ecosystem report in October.
DeFi mining prize pool
From Sept. 23 to Oct. 8, users who participated in DeFi mining could share a prize pool of 50,000 OKB while mining at the same time. The greater the participation, the higher the mining revenue was — and the more OKB rewards were distributed.
All OKB rewards have been distributed in October.
Celebrating the mid-autumn festival with OKEx
To celebrate the mid-autumn festival, OKEx launched a lottery event with TRON (TRX), HyperDAO (HDAO), Bytom (BTM) and BitTorrent (BTT) that lasted from Sept. 17 to Oct. 8. Users who purchased at least 20 OKB were eligible for the lottery and shared a prize pool of 50,000 OKB.
All OKB rewards have been distributed in October.
Talk to us
In order to maintain close communication with users and listen to their suggestions, OKB also held a number of important community activities in August. Users can add OKB's assistant (WeChat ID: OKBNO1) to receive more information and benefits.
If you have any questions or comments for the OKB or OKExChain teams, please reach out via the contacts below:
OKB email: [email protected]
OKExChain Tech Telegram: https://t.me/okchaintech
---
Disclaimer: This material should not be taken as the basis for making investment decisions, nor be construed as a recommendation to engage in investment transactions. Trading digital assets involve significant risk and can result in the loss of your invested capital. You should ensure that you fully understand the risk involved and take into consideration your level of experience, investment objectives and seek independent financial advice if necessary.
---
Follow OKEx
OKEx official Telegram community: http://t.me/OKExOfficial_English
OKExChain official website: https://okex.me/OKExChain
OKEx DEX official website: https://okex.me/dex-test
Link to receive test coins: https://okex.me/drawdex
OKExChain documentation: https://OKExChain-docs.readthedocs.io/en/latest/
OIP: https://oips.readthedocs.io/en/latest/