OKEx Announces New Listing of Creditcoin (CTC)
OKEx (www.okex.com), the world's largest cryptocurrency spot and derivatives exchange, has announced to list Creditcoin (CTC), an immutable, transparent and borderless blockchain network that provides the mass access to crypto loans and help them build their credit rating. CTC spot trading against USDT and Bitcoin will open at 09:00 Apr 10, 2020 (UTC). The depositing of CTC will be available from 09:00 Apr 9, 2020 (UTC) and withdrawal from 09:00 Apr 13, 2020 (UTC).
Launched in April 2019, Creditcoin was co-founded and invested by Gluwa and Aella Credit, aiming to bridge the gap between the traditional credit system and the unbanked population in emerging markets. Gluwa is the blockchain technology provider while Aella Credit is a loan company invested by Steve Chen, co-founder of YouTube, Brian Armstrong, co-founder and CEO of Coinbase, as well as Michael Siebel, CEO of Y Combinator. In the past, those who were not able to access to a banking system had to turn to non-banks for high-interest loans, putting huge debt pressure on them without any credit records. By recording credit history using blockchain technology, fundraisers and lenders on the Creditcoin network can fulfill their needs in a more secure way where the CTC coin acts as the native token of the ecosystem for transaction fee payments.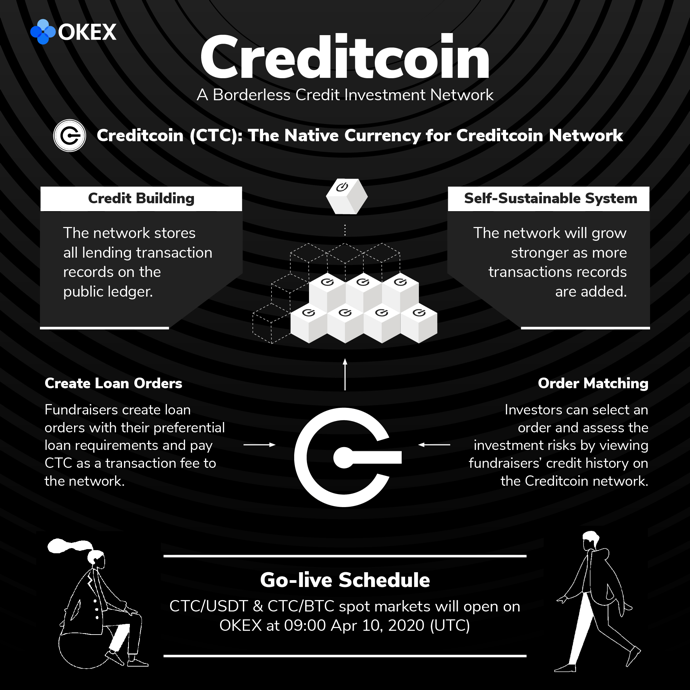 "Creditcoin is a perfect example of how blockchain technology can overcome the shortcomings of the traditional banking system, demonstrating how a decentralized finance model OKEx thinks it should be. We are glad to push forward the development of DeFi ecosystem with them," said Jay Hao, CEO of OKEx. "From credit, payment to asset management, we observe that DeFi is gradually changing the way the general public or retail customers obtain financial services with minimal constraints. Creditcoin is one of the first steps. We are looking forward to the day when blockchain can reshape the global credit and capital market, giving everyone equal availability and opportunities to access financial services. This is the vision OKEx upholds - #FinanceAll."
OKEx takes every possible measure to ensure all listed projects are of high quality and bring market liquidity. Ranging from project quality (i.e. (legal) qualifications, business model and structure, promotions etc.) to project community (i.e. ecosystem-wise capacity and promotion opportunities), OKEx adheres to the high standards of listing review process to protect the interests of millions of traders.
For further information, please refer to OKEx Academy.
END
---
About OKEx
The world's largest and most diverse cryptocurrency marketplace, OKEx is where global crypto traders, miners, and institutional investors come to manage crypto assets, enhance investment opportunities, and hedge risks. We provide spot and derivatives trading, including futures, perpetual swap, and options, of major cryptocurrencies, offering investors great flexibility in formulating their strategies to maximize gains and mitigate risks.
Media contact:
Vivien Choi
Email: [email protected]
Telegram: @vivienchoi