OKEx Jumpstart #11: DEAPCOIN – A Rewarding Gaming Experience
Do you like digital gaming? Some of us might still vaguely remember how we used to engross in a game to conquer monsters for digital money or stronger weapons night after night in your childhood. Normally you would think that games were something we pay money to enjoy, but what you'll no longer have to spend money on games, and better, you're earning money while you play?
Welcome to the world of PlayMining.
How Entertainment Translate into Everlasting Value
PlayMining is a new gaming platform launched by Digital Entertainment Asset Pte, which utilizes blockchain technology to create a new economy and culture. As the name suggests, PlayMining means you can mine crypto while playing games. Users can acquire their native ERC20-based token DEAPcoin (DEP) through enjoying games and cartoons that are available for free on the platform. The idea is that the more users engage in the entertainment content on PlayMining, the more DEP they can earn. This innovative way of mining enables any users to take part in the role of generating tokens simply by doing something they find enjoyable, without relying on machine power to calculate complex math problems. According to DEAPCOIN's CEO, they aim to simulate the good old days of the American gold rush in the world of the game platform, providing equal opportunities to make money regardless of environment or location on blockchain.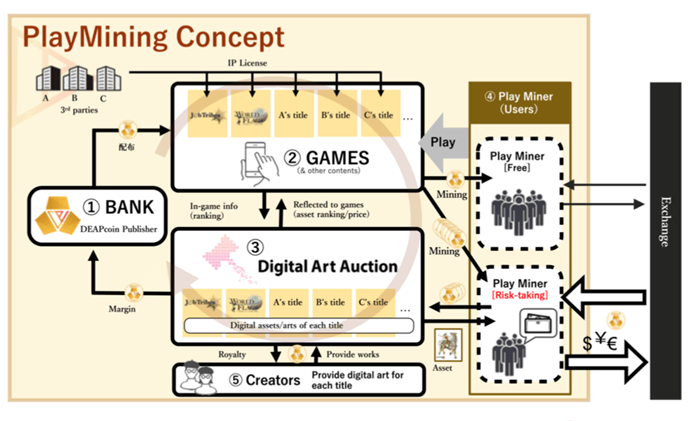 After acquiring DEP, users can store them securely on the platform, which adopts the ERC721 private blockchain technology to ensure the safety of users' assets; or they can use them to buy digital art in Digital Art Auction (scheduled to launch in Apr this year). This is a marketplace where users can purchase and make transactions for gaming items that appear in PlayMining, similar to upgrading their gears in any digital game; or they can collect beautiful art drawn by the world's top illustrators, including some renowned Japanese artists too. Parts of DEAPcoin will be returned to the creators during the process, this concept of distributing cryptocurrency to users can attract a large number of users across the world to participate in, and thereby flourishing the DEAPCOIN ecosystem.
With the power of entertainment and technology, PlayMining is a community where people create fun and share that fun, exchange their passion, and won't be restricted by their occupation or their environment.
Ready to Share the Fun?
DEAPCOIN (DEP) will be the #11 token sale on OKEx Jumpstart, to be launched on Apr 8, 2020 (UTC). The OKBelievers Exclusive Allotment Session will open at 09:00 (UTC), and the OKTraders Privilege Allotment Session will open at 10:00 (UTC).
Listing
· DEP/USDT Spot Market: 12:00 Apr 8, 2020 (UTC)
· DEP/USDK Spot Market: 13:00 Apr 8, 2020 (UTC)
---
Disclaimer: This material should not be taken as the basis for making investment decisions, nor be construed as a recommendation to engage in investment transactions. Trading digital assets involves significant risk and can result in the loss of your invested capital. You should ensure that you fully understand the risk involved and take into consideration your level of experience, investment objectives and seek independent financial advice if necessary.
---
Follow OKEx on:
Twitter: https://twitter.com/OKEx
Facebook: https://www.facebook.com/okexofficial/
LinkedIn: https://www.linkedin.com/company/okex/
Telegram: https://t.me/OKExOfficial_English
Reddit: https://www.reddit.com/r/OKEx/
Instagram: https://www.instagram.com/okex_exchange
Steemit: https://steemit.com/@okex-official
Website: https://www.okex.com