5 nonfungible token projects leading the top NFT use cases
An introduction to the top projects leading the way in NFT collectibles, games, marketplaces, art and even domain names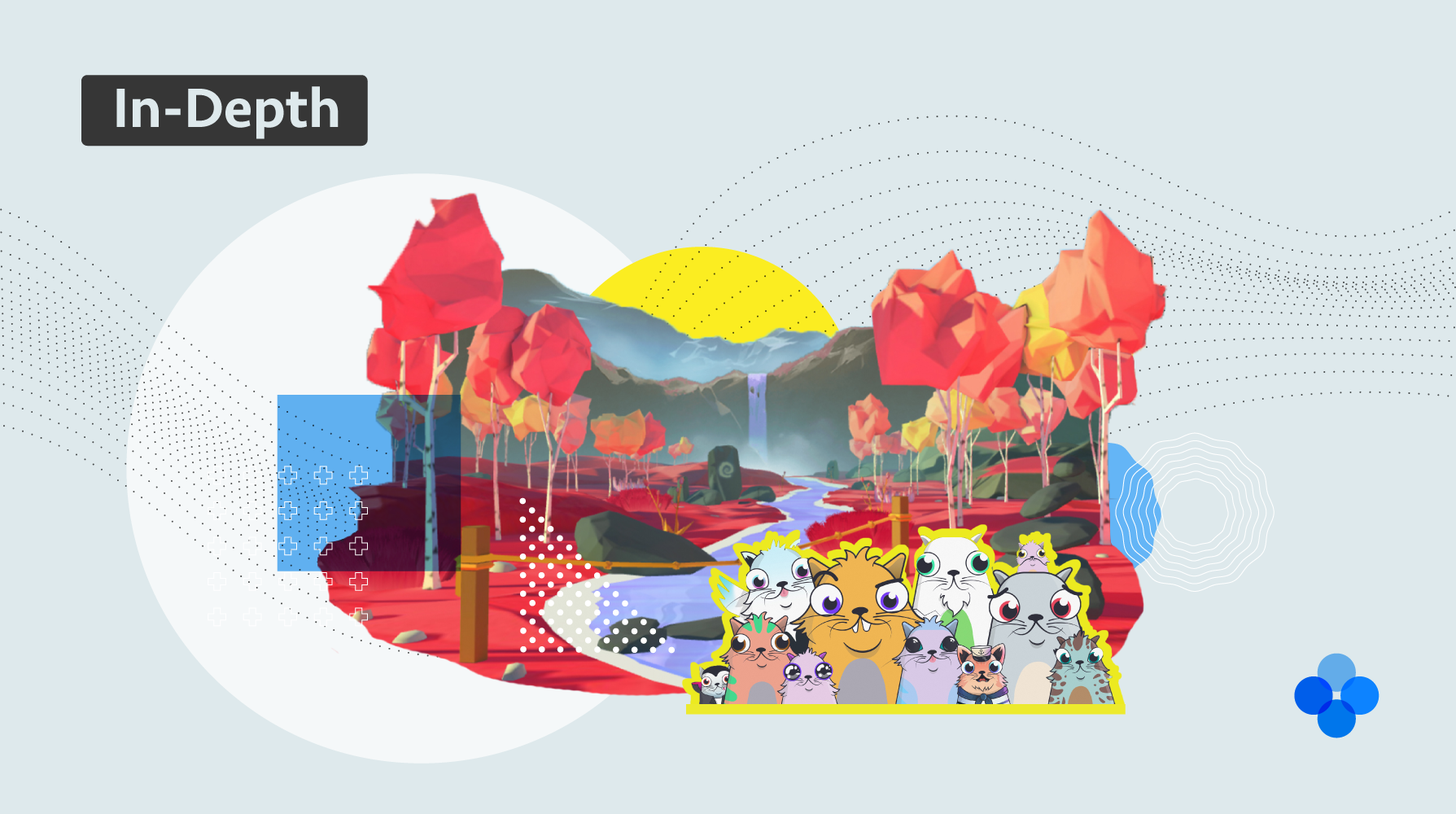 Nonfungible tokens are digital representations of assets that are not interchangeable in the real world. While they've been around since mid-2017, NFTs gained renewed traction among the crypto community this year after the DeFi boom. In the first half of 2020, the amount of USD transferred in the NFT ecosystem reached $232 million — up 52% from the entirety of 2019.
NFTs are often touted for their potential to revolutionize gaming, collectibles, digital art and other sectors, and while their utility is still being explored, OKEx Insights examines the top five NFT protocols, by volume, across various categories, including gaming, virtual worlds, collectibles, art and domains.
1. CryptoKitties: The leading NFT of all time
CryptoKitties is an Ethereum-based game that allows users to collect and breed virtual cats. The game's tokens are nonfungible, as each one represents a unique digital cat on the blockchain. These digital cats are differentiated in terms of their appearance and traits — their "cattributes." Given the nature of these tokens, each digital cat represented by an NFT cannot be replicated, destroyed or taken away.
To start breeding digital cats, users need to deposit Ether (ETH) in the game's official wallet, Dapper. There are two ways to breed new kitties — breeding two of your own kitties or breeding with a public sire (the father). Users can get their first kitty by making a purchase in the marketplace or bidding for a kitty in the game's Offer system.
Experienced CryptoKitties players aim to collect as many valuable digital cats as possible. The value of each kitty is determined by its generation and rarity. For generations, a general rule of thumb is that kitties with fewer generations are more valuable than those with a higher number. This is because kitties with fewer generations have faster cooldown speeds, so they can breed more often. 
"Gen 0" is the rarest generation of kitties, with supply fixed at 50,000. This made Gen 0 kitties scarce, and their value increased over time. Apart from generations, kitties that are also considered rare include those with low ID numbers, as well as Exclusive cats or Founder cats, which can all be traded at higher prices on the CryptoKitties marketplace.
CryptoKitties is the first NFT protocol that caught mainstream attention in late 2017. As users could breed rare cats and resell new kitties for profit, the game attracted significant attention. The surging demand for CryptoKitties led to the number of daily transactions on the Ethereum network reaching an all-time high (1.349 million) in January 2018 — a record that was just recently surpassed in September 2020 amid the DeFi liquidity-mining craze spurred on by Uniswap.
While the "prime time" of CryptoKitties has passed, the game retains its iconic status as a leading protocol in the NFT space. The total, all-time trading volume of CryptoKitties currently stands at over 64,000 ETH — or roughly $29 million, at the time of writing — with a total of nearly 2 million NFT assets created.
2. Decentraland: A decentralized virtual world
Powered by the Ethereum blockchain, Decentraland is a decentralized virtual world that allows users to use customized avatars, trade collectibles and participate in the virtual world's governance process. 
To start exploring Decentraland, users need to first connect to a web browser with their crypto wallet. Users can then select and customize their avatar, and each avatar is given a virtual passport representing its identity in Decentraland. Once users have completed the initial setup of their avatar, they can start building their own neighborhoods and can buy rare digital assets. 
Participation in Decentraland requires both fungible and nonfungible tokens. MANA is the digital currency used in the Decentraland marketplace. Each MANA token is interchangeable with another MANA token and is hence fungible.
MANA can be purchased from any crypto exchange that lists its trading pairs, such as MANA/BTC or MANA/ETH on OKEx.
Users can then spend MANA for parcels or estates of LAND, wearables and even unique names on the Decentraland marketplace. Apart from the Decentraland marketplace, users can purchase supported items on NFT marketplaces such as OpenSea.
Decentraland also uses LAND, an NFT, to represent the ownership of the parcels and estates. LAND is a nonfungible digital asset maintained by a Ethereum smart contract that represents the parcels of virtual land in Decentraland. Each LAND token represents a unique parcel of land and can be traded on the Decentraland marketplace.
The Decentraland DAO went live in September and encourages user-participation in the governance process. Users can vote on governance proposals, and their voting powers come from three sources:
Wrapped MANA: MANA converted into WMANA. Each WMANA equals one voting power unit.
LAND parcels: Each parcel equals 2,000 voting power units.
Estates: Each estate equals 2,000 voting power units.
Users can cast their votes on various governance topics, including:
Features and upgrades of LAND and parcels.
Marketplace fees.
Allocation of MANA for development efforts.
Addition of new wearables to the Decentraland world, builder and marketplace.
Decentraland is the second-largest NFT protocol in terms of all-time trading volume (49,780 ETH, or $22.6 million) and currently has more than 96,000 in-game assets.
3. Rarible: A marketplace for digital collectibles
Rarible is an NFT marketplace founded by Alexander Salnikov and Alexei Falin in January 2020. The Moscow-based platform allows users to mint, buy and sell their rare digital collectibles. Rarible supports a variety of digital collectibles and products, including digital art, domain names, DeFi insurance policies, memes and metaverses.
The minting of digital collectibles in Rarible is relatively straightforward. Users can start by uploading collectibles in any of the supported digital forms (graphic, audio, etc.), followed by adding descriptions and pricing details. After this, users need to connect with their Ethereum wallet to approve minting transactions.
The NFT minting feature has been appealing to content creators and artists, who can release teasers for their content and give full versions to users only after the purchase of the relevant NFT.
Rarible gained widespread popularity among the crypto community due to its governance token, RARI. While the recent hype around governance tokens stems from the DeFi sphere, Rarible was the first NFT protocol to launch its own governance token.
The launch of RARI is the first step toward Rarible's ultimate goal: the creation of the Rarible decentralized autonomous organization. As RARI holders, users can submit and vote on system-upgrade proposals, including decisions regarding Rarible's trading fees and the addition of new features.
Going forward, Rarible continues to explore the integration of NFT and DeFi, and recently partnered with yearn.finance and blockchain-based insurance platform Nexus Mutual to launch insurance coverage NFTs.
At the time of writing, Rarible recorded all-time volumes of more than 31,500 ETH, or $14.3 million.
4. SuperRare: A marketplace for single-edition digital artwork
Founded in 2017 by John Crain, SuperRare is a digital art marketplace where artists can tokenize and monetize their authentic, single-edition artwork as collectible digital items. Each work of art on SuperRare is represented by an ERC-721 token, secured by cryptography and traceable on the blockchain.
When artists issue authenticated digital artwork on SuperRare, their artwork is certified on the Ethereum blockchain to prevent forgery and provide historical provenance. In addition, artists can display their artwork in SuperRare using virtual reality galleries and digital displays. Art collectors, on the other hand, can purchase artwork on SuperRare and resell the NFTs on secondary markets, such as OpenSea. All transactions on SuperRare are made with Ether, and buyers need to pay a transaction fee of 3% for all purchases.
Similar to traditional art galleries, SuperRare also charges a commission from artists. For primary sales, the artists receive 85% of the revenue, while SuperRare keeps 15%. For secondary sales, the artists receive 10% as royalty.
SuperRare describes itself as a combination of Instagram and Christie's, and its "Activity" tab has an interface similar to the former while its marketplace is like the latter — both routes bringing art collectors to a page where they can make online bids for digital artwork.
To date, SuperRare's all-time trading volume surpassed 16,500 ETH — equivalent to roughly $7.5 million, at the current ETH price — the highest among NFT-art marketplaces. The platform has sold over 12,000 pieces of digital art, and its secondary market sales have almost reached $1 million.
5. Ethereum Name Services: The leading NFT in domain names
Founded by the Ethereum Foundation in May 2017, Ethereum Name Services is an open, distributed and extensible naming system based on the Ethereum blockchain. The protocol has more than 190,000 registered names and has integrated over 100 wallets and decentralized applications to date.
The native TLD — i.e., top-level domain — is ".ETH" on ENS. These ".ETH" domain names are unique and nonfungible, represented by ERC-721-compliant NFTs, and they are available for purchase and trading on NFT markets such as OpenSea and Rarible.
Since these domain names adhere to the ERC-721 NFT standard, they can also seamlessly plug into NFT markets and wallet interfaces, enhancing NFT and DeFi integrations.
Ethereum Name Services is the leading NFT in its sector, with an all-time trading volume of over 6,600 ETH (or $3 million) and more than 20,000 owners, according to OpenSea.
The road ahead for NFTs
Apart from the protocols mentioned here, 2020 has generally been a good year for NFTs and DeFi. Moving forward, we can expect deeper integrations between the two spaces. For instance, Rarible has already partnered with yearn.finance to launch insurance NFTs for DeFi protocols, and the upcoming Ethereum 2.0 upgrade is likely to promote more novel use cases and spur growth across these ecosystems.
---
OKEx Insights presents market analyses, in-depth features, original research & curated news from crypto professionals.